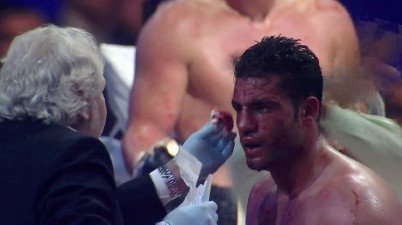 Former WBA heavyweight champion David Haye (26-2, 24 KO's) has set a goal for himself in his fight against #8 WBC Manuel Charr (23-1, 13 KO's) next month on June 29th at the Manchester Arena (formerly M.E.N Arena), Manchester, Lancashire, United Kingdom.
Haye, 32, wants to improve upon the job WBC heavyweight champion Vitali Klitschko did last September when he tore Charr's face to ribbons in stopping him in the 4th round.
Haye said to Sky Sports "The power of Vitali Klitschko couldn't knock this guy out, so I know it will take more than just clubbing away with stuff punches to finish him off. But it's my aim to go one better than Vitali and end this fight with Charr flat on his back."
I think Haye is simplifying what happened in the Charr-Klitschko fight. The reason Vitali didn't knock Charr out was because the doctor stopped the fight so quickly in the 4th round after Vitali ripped up Charr's face. The fight was pure comedy with Vitali giving Charr a minor beating and then ringside doctor saving Charr from a beating by stopping the fight due to his cut up face. Then Charr marched around the ring, waving his hands around and acting mad. It was hilarious to watch because it looked a play in a theater and it was pure drama. I thought Charr looked relieved that the fight was halted.
Vitali had already knocked Charr down in the 2nd round when he caught him cleanly with a shot, and it was a matter of time before caught him again with another big one. The fight was heading in that direction because Vitali couldn't miss with his power shots and Charr was like a wide-bodied punching bag with arms.
This was actually an easier fight for Vitali than his fight with Albert Sosnowski and that was a total mismatch. The fact that Haye selected Charr to fight instead of someone better suggests that that Haye doesn't want to take any chances that he might get beat and end up ruining his second chance against IBF/IBO/WBA/WBO heavyweight champion Wladimir Klitschko. What a mismatch their fight two years ago was.
Charr has the power to knock Haye out, but he's so slow in throwing his shots and so primitive in the way he attacks that this fight will be over the British fans have had a chance to take a bathroom break. WBC has Charr ranked WAY too high in my view. I see the guy as bottom 100, and no way should he be ranked in the 15, let alone top 10 like he is now.
I still can't understand why the WBC has him ranked so high because he looked like a rank amateur against Vitali, and it was just so easy for the big Ukrainian to hit Charr at will with his shots.