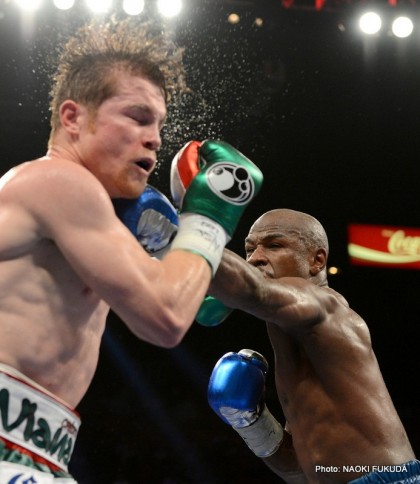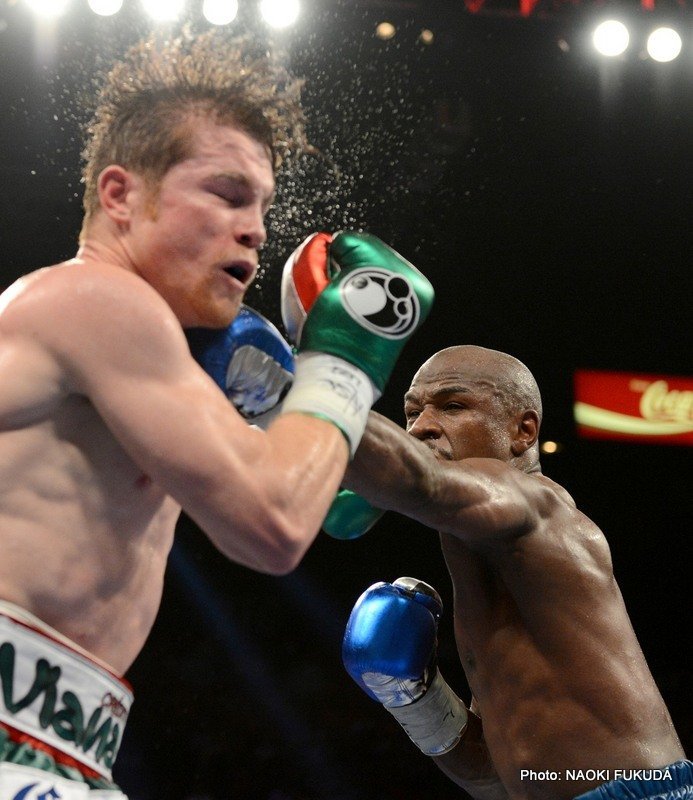 The hype has been dispelled by harsh realizations, the euphoria (if any) has winded down and it may be time for some conclusions. Saul Alvarez and his team must have reached several revelations while Floyd Mayweather backed up braggadocio on Sept. 14.
Floyd Mayweather imposed his 'blueprint" from the start and needed to make only small adjustments as the fight went on. He often anticipated his opponent's actions taking advantage of the weaknesses he and his father mentioned before the fight. He used one small halfway-back movement on top of his usual routine to dampen Alvarez's right hand. Floyd positioned himself as his opponents expected but he did not move in the direction his opponent expected. On top of that as an additional precaution he used this unobtrusive angle maneuver which seemed to hypnotize team Alvarez and they did not address that issue. FMJ's game consisted of performing all the basics of boxing but performing them exceptionally well. His game reminded me of the Cuban amateur style, the same feet position and wide use of all defensive dimensions while throwing long-range scoring shots. Scoring shots favor speed and endurance while power punches consume a lot of fuel. His father's instructions were "touch him to the body", not "hit him".
The key element of Floyd's strategy was not to allow Alvarez to fight going forward. This is "El Canelo's" favorite dimension and he is more or less one dimensional. Mayweather would not back off in the opening rounds instead he had Alvarez going back. It turned out the Mexican fighter could not fight well on the back foot. His comfort zone was stolen from him and he could not adjust to that for the whole fight. It wasn't a race to get in range or to set a pace. It was a race to get in the driver's seat and choose the course of the action and Mayweather won it without wasting energy. . It was obvious Alvarez had not trained boxing backwards, he didn't even move properly but moved straight back like a tram. He even forgot to move his head while in range. FMJ acted out of character in the first half of the fight, he was aggressive and went forward. "El Canelo" was at a loss and had no answer for this change of course. His "blueprint" was trumped by superior tactics specially designed for him. It was a simple but crucial change of plan.
Alvarez was finally able to find his direction of movement in the 8th round. He started landing body shots instead of jabbing to chest in an attempt to "reset" Mayweather and make him start again. Those disruptive jabs were blocked by Mayweather with amusement but he wasn't amused by the body shots. Alvarez could not keep up his sound game for the rest of the fight and went back to loading up for one punch wonders. He abandoned the three punch combos ending with a body shot and he could not make Mayweather go backwards and give him opportunities, Floyd was too elusive and would use lateral movement when Alvarez pressed forward too hard.
Saul Alvarez sort of passed the test even in defeat. He proved to be a brave, mentally and physically tough and his stamina did not betray him. He is conventional and reliable but he is not special. He is not a boxer because he has unique athleticism and talent; actually he is boxing in spite of his body type. Alvarez is heavy for his frame and he has a hard time making the right weight for his size. Floyd is privileged with his body and muscle type as he stays light for his height while preserving muscle quality. Floyd's reach is longer than of Golovkin, Andre Ward and Mike Tyson.
"El Canelo" can't afford to be exposed like that again if he is to "carry the torch" that Floyd said will give him when he retires. Saul is only 23 and his body may still be growing. He should not be allowed to become a "transformer" like Ricky Hatton for example who had to shed up to 50-70 pounds to make weight. Moving up to middleweight should not be an option, middleweights are too big and dangerous for "El Canelo". He has to avoid GGG at all costs.