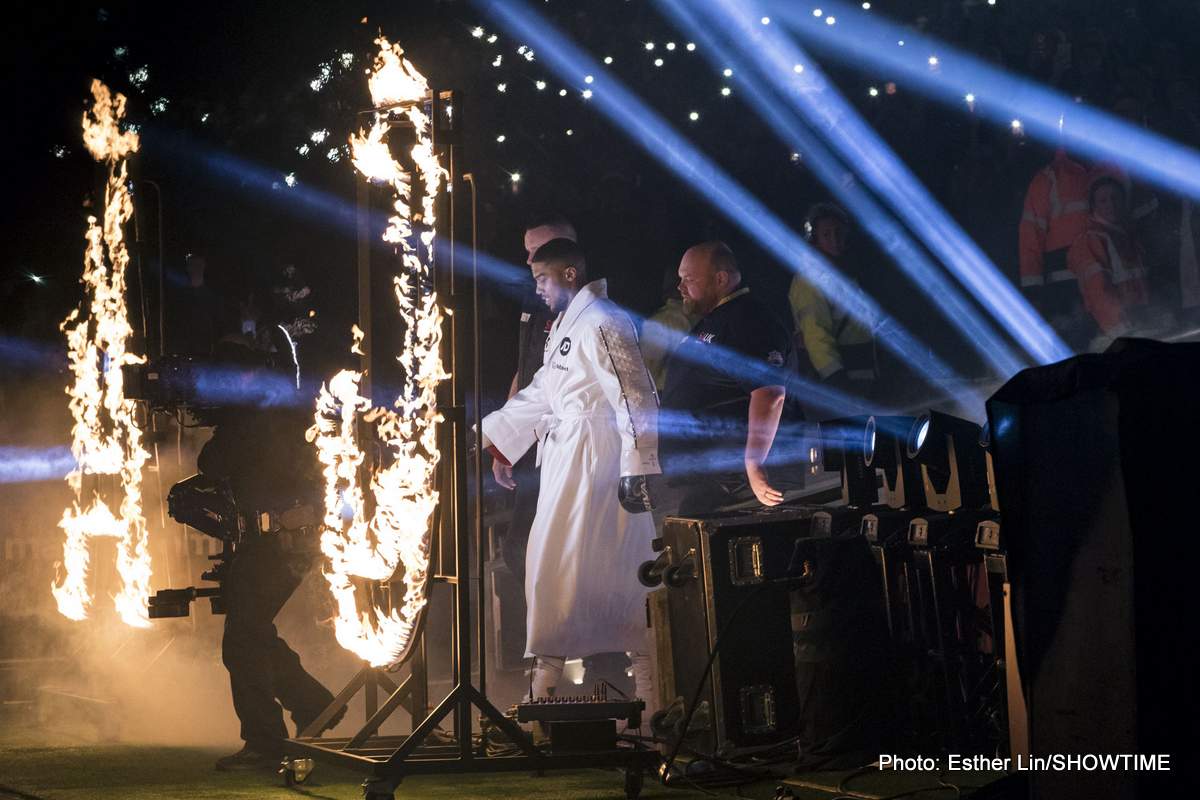 The question all fight fans are currently asking is, who will WBA/IBF/WBO heavyweight champion Anthony Joshua fight next? We all know who we want AJ to fight next: reigning, unbeaten WBC champ Deontay Wilder. But no-one – least of all promoter Eddie Hearn, who says he is "bored" with the ongoing frustrations of not being able to negotiate in earnest a fight deal with Team-Wilder, and not Wilder himself who says he is convinced Joshua and Hearn are scared of him and are running from the fight – is holding their breath on seeing this one here in 2018; if at all.
It really is a joke that these two young, unbeaten, exciting rival champions who between them hold 'all the marbles' in the sport's glamour division, might not actually fight; or at least not next, when this is so clearly the fight that is wanted and needed. Who knows, maybe both sides will come together and sit down and talk, not just post aggressive messages on social media; which is pretty much all Wilder does in regards to this big fight, in the opinion of Hearn, anyway.
But if it's not Wilder next, who might AJ face instead:
Alexander Povetkin.
The once-beaten former WBA champ is the WBA mandatory challenger and the Russian star is, as fans know, hoping to fight AJ next. Having boxed in the UK this past Saturday night, in flattening a game David Price, Povetkin could well be agreeable to the idea of returning in the summer to challenge Joshua. Or maybe a huge stadium in Russia would play host to the fight?
Dillian Whyte.
Whyte doesn't just want to fight Joshua a second time, the WBC NO-1 ranked contender says he actually wants to fight AJ four or five times more before his career ends. Hungry to avenge his sole loss (a KO defeat to AJ in a British title fight back in December of 2015), Whyte has other options – seemingly calling out just about everyone, from Povetkin, to Wilder to AJ, and it seems Whyte will get a big fight next. Would fans get excited about a Joshua-Whyte II?
Jarrell Miller.
Hearn has talked of the possibility of Joshua having his US debut this summer if the Wilder fight cannot be made, and "Big Baby" is certainly up for the challenge. But after beating Joseph Parker, AJ said in the ring how he aims to "stay here" and fight the big fights in the UK. Would Miller come to the UK to challenge Joshua?
The Kubrat Pulev-Dominic Breazeale winner.
These two have been ordered to box an eliminator by the IBF and maybe Joshua, who was supposed to fight Pulev last year, will look to give the Bulgarian another chance should Pulev beat Breazeale.
Tyson Fury.
This fight, along with Joshua-Wilder, seemingly has to happen – one day. But although Fury stated on Saturday night that he could beat AJ in his comeback fight, this massive all-British grudge-match is a far more realistic option for 2019.