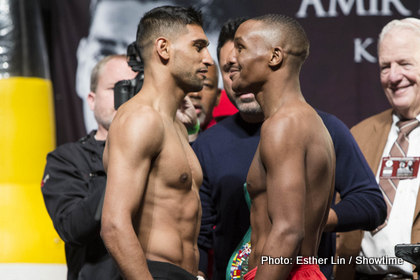 Contender crossroads is the theme heading into Saturday nights Showtime main event from the MGM Grand in the city that never sleeps Las Vegas. If Amir wins he will be in line for a huge fight. If Devon wins he saves a once promising career.
For the last two years the only thing that Amir Kahn talks about in interviews is Floyd Mayweather. That and how he's made significant improvements to his tool belt as a boxer. If Amir Khan can be 75% as good as he thinks he is major fights will be on tap for 2015 and beyond.
Slowly but surely the tide is turning in Khan's favor for landing Mayweather. There is a small swell of fans who think Khan is being ducked because of his skill set and speed. Meanwhile, his handlers have been carefully matching him after Danny Garcia stopped Khan in the summer of 2012.
Even this fight versus Devon Alexander is a year late in the way of meaning at the welterweight division. I realize boxing is a business. Robert Guerrero and Victor Ortiz beat Andre Berto and that was enough for those two to fight Floyd. And what exactly did Brandon Rios and Chris Algieri accomplish at 147 to land Pacquaio?
Boxing is no doubt about the business but there is such a thing as "what have you done for me lately", and is consistently used as a reason why a certain fighter gets a big fight. Amir Khan of late and even with a win over Devon Alexander hasn't proved to be a worthy opponent for Mayweather. Here's hoping if Khan does win he takes on Kell Brook in what would be considered a super fight for the deserving U.K fans.
Devon Alexander made a name for himself at junior welterweight as a champion with real skills, power, and activity. He lost to Timothy Bradley in a fight that crowned a King at 140. His run at 147 included a clinch fest with Marcos Maidana, a no-so meaningful belt, and a few wins against fringe contenders.
Beyond Maidana his toughest test came late last year against Shawn Porter. In that fight he was rushed, smothered, and overpowered. Does Devon have what it takes to beat Khan which would make him relevant again?
A fight that stands out to me in the process of picking a winner is Andreas Kotelnik. It has nothing to do with both fighters having fought and beat the Ukrainian it's the style in which Kotelnik fights.
Kotelnik was able to land numerous flurries on Alexander without taking a ton of punishment in return. It was a razor-close contest and for the record this scribe thought Kotelnik did enough to walk away victorious. The location of the venue had more to do with Alexander winning that what transpired in the ring.
The move to 147 helped Alexander's body health but it hasn't shown much in the way of results. It seems as if he is the same front-running guy he has always been. The real question is how much has Khan improved. Although Khan didn't shown many improvements in the first two fights under the tutelage of Virgil Hunter, his fight with Luis Collazo was all I needed to favor Khan in this style matchup.
Two traits that will help him on Saturday will be the art of the clinch and his ability to reset. In the past Khan's pride would not allow him to tie-up on the inside. That and it didn't seem like he knew how to effectively clinch. That all changed against Collazo.
Kotelnik was able to land clean in combination enough times to leading me to believe Amir will too. As long as he uses that jab at length and doesn't get caught in many fire fights I see him coming out on top.
On the flip side Alexander has a steady jab, is very athletic, and his clinch game is tight as can be. He could get off first and hold his way to victory. A major key for both will be who is first. I see this fight starting slow with spurts of action but for the most part it could be a step up from a full-on snoozer. Both fighters will win rounds by landing potshots and point-scoring combinations.
My official prediction is Amir Kahn by Majority Decision.
Side Note: Showcase fights for Keith Thurman, Abner Mares, and Victor Ortiz on the Showtime undercard. Also on the docket for Saturday night is Bradley vs. Chaves on HBO. I see this fight as entertaining matchmaking but I don't agree with many media members believing Chaves is a risky opponent. It's a nice comeback fight from a Pacquaio loss, nothing more nothing less. Chaves will make Bradley work but Timothy will win most of rounds and come away with a clear victory. Korobov vs. Lee and Herrera vs. Benavidez round out a solid HBO Tripleheader.