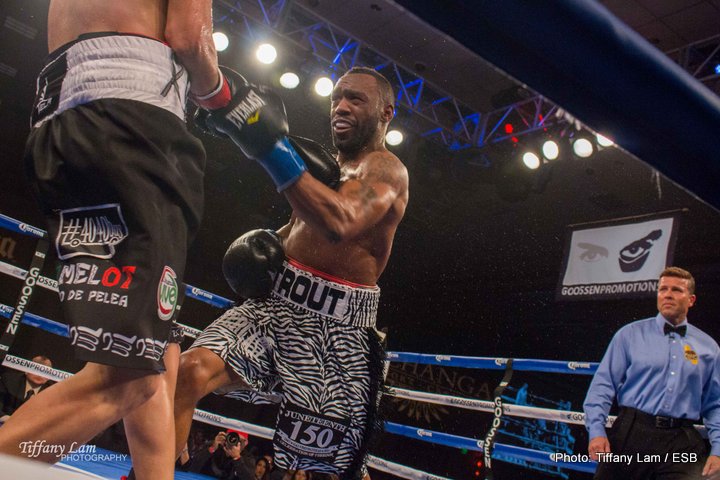 #6 WBA Austin Trout (28-2, 15 KOs) proved tonight he could beat a 2nd tier fighter in stopping Luis Grajeda (17-4-2, 13 KOs) in the 7th round at the Pechanga Resort & Casino, in Temecula, California, USA. Grajeda didn't come out for the 8th round and the fight was halted with him on his stool. It was a boring fight from start to finish with Trout taking the fight to a reluctant looking Grajeda. Both guys were counter punchers, but Trout was clearly the better fighter of the two by far.
You have to wonder why Trout was fighting someone of this class. Trout looked horrible in his last fight against Daniel Dawson, which is perhaps why his management chose to step him down in competition rather than move him up a level. We basically learned nothing from this fight other than the fact that Trout can beat an over-matched opponent without much punching power. Trout is likely going to still have the same problems in the future once he's stepped up a couple of levels to face someone with punching power.
Heavyweight Antonio Tarver (31-6, 22 KOs) stopped Johnathon Banks (29-3-1, 19 KOs) in the 7th round. Tarver knocked Banks down with a left hand in the 7th. Once Banks got back up, Tarver finished him off with a small flurry of punches.
The fight was boring to watch with both fighters throwing very, very few punches in each round. Tarver was able to win most of the rounds by landing one or two solid punches. Banks was throwing next to no punches and just looking to keep from getting hit by Tarver, which wasn't that hard for him to do because of Tarver's low work rate.
After the fight, Tarver expressed interest in wanting to fight for a world title against champion Wladmir Klitschko. If that fight does happen, it would have to be an optional title defense for Wladimir, because Tarver isn't his mandatory challenger and it's highly unlikely that he could fight his way into a mandatory spot by beating a top contender.
"I'm punching now. I'm a knockout artist. When I drop the hammer, it's good night Irene. I want to become the oldest champion to win a world title. I will become the heavyweight champion of the world," Tarver said.
Other action on the card:
Oscar Escandon SD 12 Tyson Cave
Rico Ramos UD 8 Juan Ruiz
Marcus Browne TKO 1 George Blades
Gerald Washington TKO 1 Mike Sheppard
Terrell Gausha TKO 8 Cesar Vila