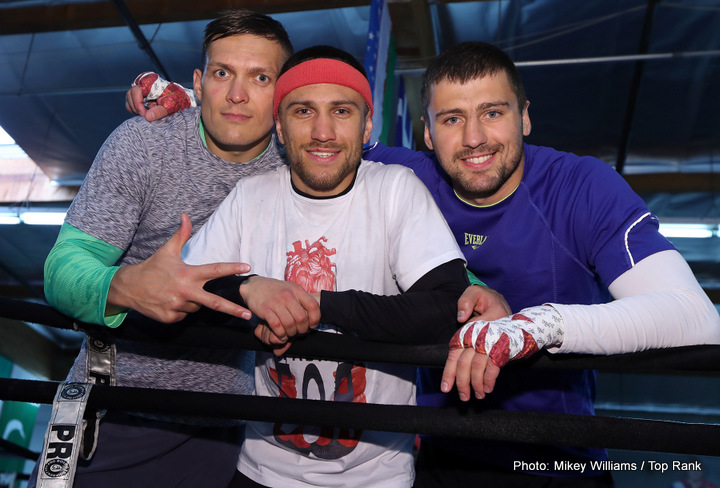 Who is the better fighter, once-beaten junior-lightweight ruler Vasyl Lomachenko, 7-1(5) or unbeaten lightweight champ Mikey Garcia, 36-0(30)? The two fighters themselves have had some heated verbal exchanges and now the two pound-for-pounders wish to settle it in the only place that matters, the ring, to find out who is superior.
Garcia, who looked sensational in returning to the ring to blitz Dejan Zlaticanin to claim the WBC 135 pound belt in January, told CBS Sports that Lomachenko is "only doing stuff that I did three, four years ago." Garcia points to his own wins over Orlando Salido and Rocky Martinez, the two men who beat and got KO'd by Lomachenko respectively.
"He got beat by an experienced, rugged fighter [Salido] and after that, he has improved a lot," Garcia said of Lomachenko. "He has a lot of credibility. But even at that, he's only doing stuff that I already did. He couldn't beat Salido, who I completely dominated. He wins his second world title, a title I had vacated that ends up going back to Rocky Martinez, the guy I had previously knocked out. Then Vasyl Lomachenko knocks him out and all of a sudden he's this greatest star because of victories that I already accomplished. Well, I don't give him credit for that."
On first impression, Garcia's argument is sound, but look at the respective performances he and Lomachenko put on against Salido and Martinez. Yes, Garcia beat both, but as fans may recall, his win over Salido, back in 2013, came via a Technical Decision; Garcia being unable to continue as he had suffered a broken nose. Lomachenko lost to an over-the-weight Salido, via ultra-close decision, in just his second pro fight.
Against Martinez, Garcia stopped him in the 8th-round but suffered a knockdown of his own beforehand, while Lomachenko, in a stunning display of skill and power, vaporised Rocky in the 5th-round, the KO getting a ton of attention. Maybe it's this attention that is riling Garcia. But "Hi-Tech," as Lomachenko is known, says he is happy to meet Garcia in the ring to settle things.
"If, right now, people are talking more about me, with me being the foreigner in this country, and not talking about him, that's not a problem," Lomachenko told CBS. "We can meet in a few fights to find out who is better."
Lomachenko, moving up to 135 to take on Garcia: what's not to like! Talk about a great fight, and a grudge-fight.
First of all, though, Lomachenko must get past a determined Jason Sosa next month.