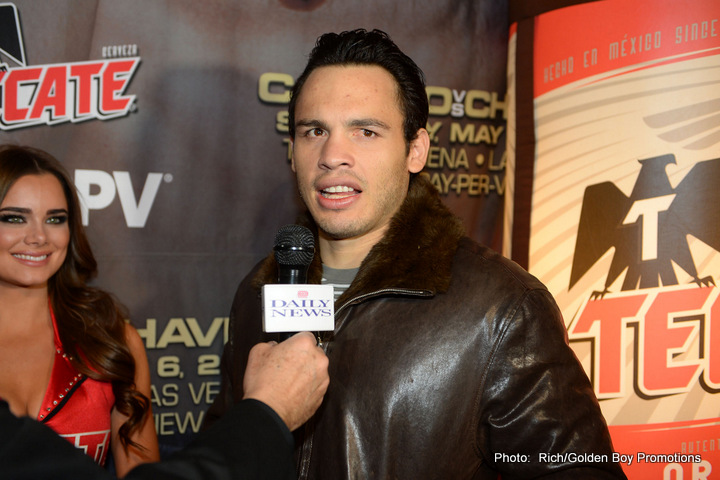 Though nobody ever, ever expected Julio Cesar Chavez Jr. to become the great – all-time great – fighter his legendary father was, all along the experts knew Chavez Jr. could fight. The problem, as both his fans and critics know, was the 30 year-old's discipline, or lack of it.
The former WBC middleweight champ got so out of shape and overweight that at one point he fought as a light-heavyweight; being stopped by Andrez Fonfara. But it seems those days of lack of focus and laziness in the gym are behind Chavez (although for many people, it will be a case of, 'I'll believe it when I see it in the ring') – at least if his current weight and physical appearance is anything to go by.
With still well over a month to go until his massive, "Battle of Mexico" with superstar Canelo Alvarez, Chavez is tipping-in at a relatively low 178 pounds. Having done to the work in the gym, sparring plenty and pleasing his trainer, the great Nacho Beristain, Chavez is, he says, on his way to becoming a "new" Julio. But Chavez, as he said to ESPN Deportes, only wants to prove this in the ring, not with mere words.
"I weighed 178 pounds on Wednesday night," Chavez Jr. announced. "We go according to plan. I am already under 180. I can tell the people they are going to see a new Julio – but I do not want to do it with words; I want to do it with facts."
The contracted weight for Canelo-Chavez is of course 164.5; with almost five weeks to go until the day of the weigh-in, any concerns fans might have had of Chavez failing to come in as ordered (and pay a hefty fine for each pound he comes in over the agreed limit) appear null and void. Chavez has trained, and is training, like a demon for this one; because, as he has said himself, his entire country will be watching on May 6 and pride is at stake.
Could Chavez upset Canelo? We've seen far bigger upsets take place in boxing.