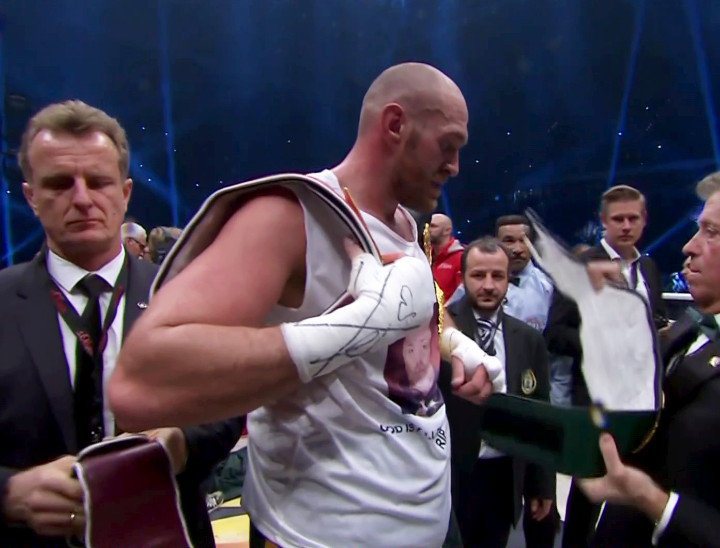 Former heavyweight world champion Tyson Fury's trainer Ben Davidson knows what he needs to do to defeat Anthony Joshua when the two big heavyweights battle it out soon. Davidson has taken over the reins to train the 6'9" Fury to get him ready for his comeback in 2018.
The overall target for Fury is IBF/WBA heavyweight champion Joshua (20-0, 20 KOs), but that fight won't take place until Fury is good and ready to take it.
The game plan to defeat Joshua is quite likely to be the same one that Wladimir Klitschko last April at Wembley Stadium in London, UK. Wladimir, 42, stymied Joshua's offense by using movement, jabbing and not staying in one place for any amount of time. Joshua looked frustrated and tired through the first 9 rounds. Wladimir made a mistake in the 10th by getting too close to Joshua. This allowed him to land an uppercut that hurt Wladimir. The rest is history. Joshua came on strong and stopped Wladimir in the 11th. Fury will surely learn from that fight and not repeat the same mistakes Wladimir did.
Davidson says Fury (25-0, 18 KOs) will be back inside the ring in April or May of next year. The weight should be off by then, and he'll be able to fight without having to lug around all the extra mass that he's been carrying around for much of the last 2 years.
"We both know what needs to be done to beat the other so-called top heavyweight out there," said Davidson.
Fitness will be key for Fury for him to beat Joshua or any of the top heavyweights in the division. Fury, 29, needs to be in top shape for him to be able to move around the ring like he did in beating Wladimir Klitschko in 2015. That was the last time Fury fought. He was superb in that fight, frustrating Klitschko, making him miss with his power punches, and giving him a boxing lesson.
Klitschko didn't want to let his hands go because he couldn't hit Fury with anything. If Fury can get his fitness back, he'll give Joshua headaches when they mix it up in 2018 or 2019.
Fury could face Tony Bellew in early 2018. That's a fight that the two of them want. Fury will need to be in appropriate shape to defeat Bellew, because he's a mobile fighter, as we saw in his win over David Haye last March.
"We have a rough date, April or May, and a full training camp will commence very soon," Davison said. "He has to make weight, look good, feel good, be fit and strong, be mentally prepared."
Fury will be taking a tune-up when he does come back. He's not going to take on a real threat for his first fight back. A fight against Bellew might come in his second or third fight in his comeback, but not likely before that. Joshua's promoter Eddie Hearn wants Fury to fight Bellew, Dillian Whyte and Joshua in 2018. That's not fair to Fury to take those three fighters next year. It would be too risky for Fury to face a murderer's row like that straightaway.