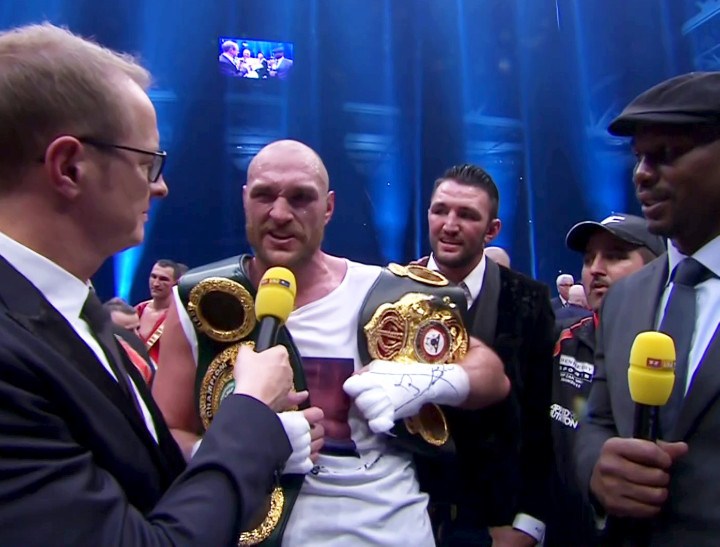 It's official: Tyson Fury is able to fight again, with The British Boxing Board of Control today agreeing to lift the heavyweight champion's suspension. Chiefs met with the unbeaten Fury today and they told the 29 year old they will reinstate his licence to box once Fury has provided them with up-to-date medical records.
Fury, arguably THE most talked about boxer today besides Floyd Mayweather, has targeted an April/May ring return, under new trainer Ben Davison (who, somewhat surprisingly replaced Tyson's long-time trainer, his uncle Peter) and now promoters, rival fighters and everyone else can start talking seriously about the comeback. Fury, at one point appearing as though he might never fight again, now seems almost 100-percent ready to do so.
One man who has a vested interest in Fury and his reissued licence is Eddie Hearn, promoter of course of Anthony Joshua; the fighter Fury has been most vocal about wanting to fight. Hearn, in speaking with Sky Sports, said AJ Vs. Fury could happen this summer as long as Fury is willing to "sit down and talk."
"I think that [Fury getting his suspension lifted] was a formality but it's great to see him back in the division," Hearn said this afternoon. "Anthony Joshua has proven time and again that he will fight anyone and in his 21st fight, he will have been in two heavyweight unification fights and his fifth world title defence, which is incredible. So, if Tyson Fury wants a fight with Anthony Joshua, it's only a phone call away. He likes to tweet about it rather than talk about it, say over the table. Rather than tweet about it, we should sit down and try and make the fight."
Fury of course needs to get his tune-up out of the way first (speculation continues over who Fury's first comeback foe might be), but then, as long as he can understand how much Joshua brings to the table, talks can begin in earnest. Fury feels he is the top dog and that he has enough clout to dictate terms of the fight all of Britain wants to see. Hearn, however, will not allow Fury to get away with that.
Fury is back, officially, but we could still be a long way away from seeing him in a ring with Joshua. Or sat at a table with Hearn.