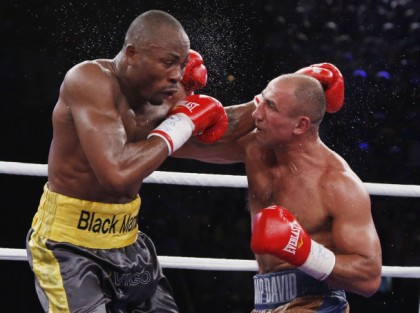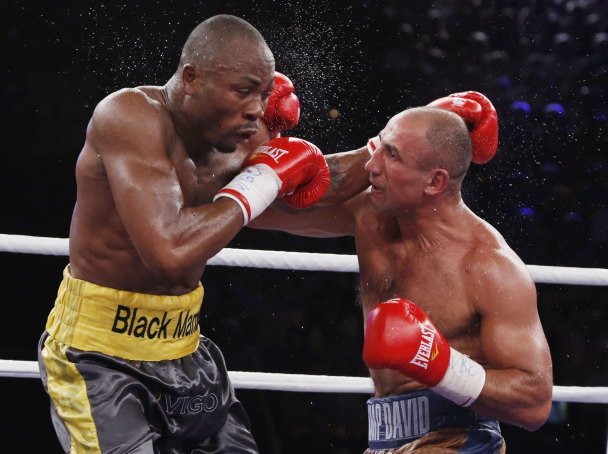 Photo: Wende – Former two division world champion Arthur Abraham (37-4, 28 KO's) got what you have to consider a gift 12 round unanimous decision win tonight against Willbeforce Shihepo (20-7, 15 KO's) at the Sport and Congress Center, Schwerin, Mecklenburg-Vorpommern, Germany. The final judges scores were 116-112, 118-110, 117-111. I had Shihepo winning by a landslide 12 round decision.
Shihepo basically outworked Abraham in every round of the fight. I gave Abraham some of the middle rounds based on his harder shots, but even then I was showing mercy to him, because he was just covering up like a sparring partner and getting nailed constantly. It was like Abraham was being attacked by a swarm of angry bees and all he could do was cover up and try to limit the stings. Just terrible to watch. I think his German handlers need to cut their losses and find someone that can fight.
Abraham looks totally shot, and even though he got the HIGHLY questionable decision, he's not going anywhere. He's going to get drilled when he faces WBO champion Robert Stieglitz in a rematch, and if he winds up fighting someone like George Groves, you'll see the same result.
Undefeated Kubrat Pulev (18-0, 9 KO's) overcame a really slow start where he appeared to lose the first four rounds to come on and beat a tired 41-year-old Tony Thompson (38-4, 26 KO's) by a 12 round unanimous decision. The final judges' scores were 116-112, 118-110, 117-111.
Thompson looked like he only trained to go four rounds, because after the 4th, he was totally gassed out and unable to throw more than a few token slapping shots in every round. Pulev, using mostly his jab and wild right hands, took over the fight once Thompson faded.
It wasn't pretty action. Pulev did a few questionable things in the fight like spinning Thompson around and hitting when he was defenseless, and punching after the round ended at least 3 times in the fight. Pulev wasn't penalized but he showed that he wasn't afraid to make things a little dirty.
Pulev showed little in the way of power, and it's difficult to imagine him doing much against IBF/IBO/WBA/WBO heavyweight champion Wladimir Klitschko other than eating power shots, and getting knocked out. Pulev has the size, but he just doesn't have any power other than his jab. Tonight that was enough for him against a tired Tony Thompson, but against a heavyweight that can punch like Wladimir, I think Pulev is going to be in deep trouble. The way Pulev looked tonight, I think someone like Deontay Wilder would destroy him.
Pulev had a way of avoiding shots from Thompson by immediately retreating at the slightest hint of aggression. However, Pulev was still predictable because he could come forward and then either jab or charge forward in a wild way that would leave himself open for shots. Had he been in the ring against a heavyweight with power tonight, I have no doubts that Pulev would hav ebeen knocked out early. He's too weak, and wide open with his shots. He needs more than just a jab to beat a good heavyweight like Wladimir.
In rounds 6th through 9, Pulev did a lot of grabbing and holding whenever Thompson would get close to him. He had a bad habit of putting Thompson in headlocks and pulling down on his head. The referee let Pulev get away with this, so it continued like that until Thompson stopped trying to fight out of exhaustion. Pulev pulled Thompson to the canvas twice, and on occasion hit him while he was falling leaning on him against the ropes to the point where Thompson almost fell out of the ring. To say this was an ugly fight from Pulev is being kind.
***
EBU light heavyweight champion Juergen Braehmer (41-2, 31 KO's) dominated an over-matched, undersized Stefan Abatangelo (17-3-1, 6 KO's) in beating him by a 12 round unanimous decision by the scores of 119-109, 119-109 and 115-111. The 115-111 seemed like an odd score, because Abatangelo fought well enough to win maybe 1, possibly 2 rounds at best. This just looked like a tune-up fight for Braehmer.
Braehmer is now in position to fight WBO light heavyweight champion Sergey Kovalev next. That's going to be a really tough fight for Braehmer, because Kovalev is a huge puncher, and Braehmer will have no way of avoiding Kovalev's shots. We could see Braehmer turned into another Nathan Cleverly, and blown out by Kovalev.
***
Other boxing action on the card:
Tyron Zeuge UD 8 Nathan King
Enrico Koelling TKO 3 Haris Causevic
Dustin Dirks Draw 8 Tomas Adamek