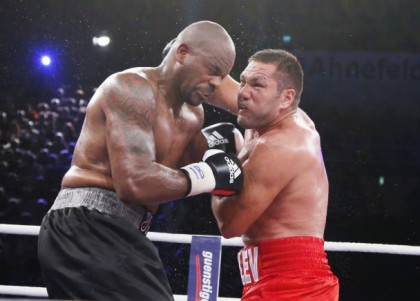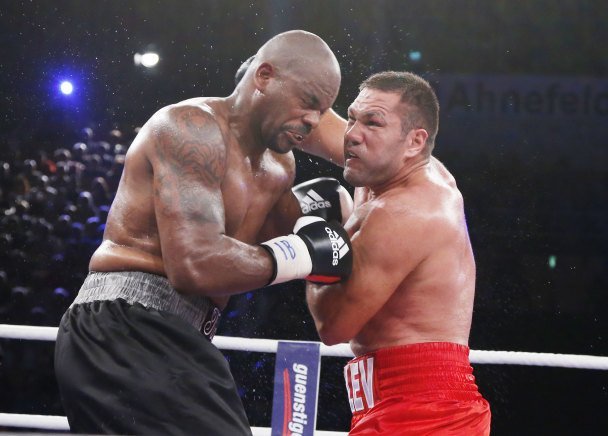 Photo: Wende – Tonight's IBF eliminator in Schwerrin, Germany was supposed to be Kubrat Pulev's bigest test so far. He had earned his high ranking but had to wait for almost a full year for this opportunity because he was being avoided for various reasons. His opponent Tony Thompson was an avoided boxer as well and he advanced to this eliminator by beating twice Britain's David Price. The Cobra proved to be a completely different kind of fighter and defeated the Tiger via a wide margin UD. I am tempted to say that if you read my "Analyses and forecast" for the fight, perhaps you did not need to watch it, it is all there. Here is a quick walk through Pulev's winning effort:
Round 1: Both fighters started tentatively cautiously feeling out each other's range and direction of movement. Thompson opened the score with jabs and one good left cross. Pulev seemed to be perplexed by the southpaw stance and the size of his opponent and he did not appear to move well, when he did, it wasn't in the right direction. Pulev is a notoriously slow starter and his first good spurt was in the end of the round. TT clearly won the round.
Round 2: Thompson started the round with two good right hands. The Cobra started to get into the fight, he was extremely cautious but started to find his range. He landed a body shot and then he found the head as well but he still had not found his rhythm with his footwork. Thompson moved better and changed directions and position better than his younger opponent. Kubrat was obviously biding his time and patiently executing his strategy, perhaps too patiently. Still a Thompson round.
Round 3:Pulev started well with right hand leads to the body and head of Thompson. The Cobra was already more relaxed and confident. He was still patient with the game plan but started pressing the action. Tony Thompson's experience and southpaw stance were still a factor and he was dangerous with both hands. Pulev edged the round slightly and this was the last competitive round.
Round 4: Both boxers started well with Pulev landing lead rights and Thompson ansewring with a good power punch of his own. Pulev's amateur boxing skills took over and he landed several beautiful one-twos in a succession that shook Thompson. Thompson used dirty tactics for the first time clipping Pulev on the back of the head reminiscent of David Price's stoppage. Pulev got angry and retaliated furiously. Thompson visibly softened up and started to look a little desperate. Best round for Pulev so far.
Round 5: Pulev took over the fight. He returned the punch on the back of the head and Thompson made a big fuss. Kubrat landed several right hands with authority and his power jab for the first time. This was the tipping point for Pulev but TT wasn't finished yet, only very disheartened. Excellent round for Pulev.
Round 6: Following his corner's advice, Thompson tried to get inside. Pulev froze and Thompson landed a very powerful two punch combo. Pulev was shaken but regrouped and fired back with a good right cross-left hook combo that took the sting out of Tony. Pulev retaliated excessively and hit his opponent after the bell. The referee could not establish good control of the fight. Pulev won the round.
Round 7: It was all Pulev already and Tony seemed to have suddenly grown older b/n the rounds. Pulev controlled the range and the pace and he did not let Thomson inside anymore. TT started sending distress signals and showing desperation on his actions. He tried to use his size and weight leaning on Pulev but it didn't work. Thompson had a good spell before the bell but it was a Pulev round again.
Round 8: Pulev got a second wind and started to land lead right hands at will. He found a new spring in his footwork and started to apply a tempo that seemed to torture his older opponent. Pulev got overconfident and rocked Thompson with a combo. TT stopped boxing and started "grappling", playing possum and clearly looking for one big shot, He manged to land one and shook Pulev who held on. After that Thompson started lowering his head trying to buy time. Round for Pulev.
Round 9: Thompson was staggering from fatigue and concussion already. He seemed groggy and ready to go. Pulev was landing so much he was in danger of punching himself out. His weakness – the lack of punch power – prevented him from stopping the hapless Thompson. One sharp right hand would have put him down. Being a southpaw, Thompson was sheltered from Pulev's jab which would have stopped him otherwise. Round for Pulev
Rounds 10,11 and 12: Thompson was begging to be put out of his misery, every time he was asked if he was OK he took time before he answered. Pulev could not find one explosive shot or combo to do what he deserved. He completely out boxed Thompson using his amateur boxing skills to win a war of attrition.
Everyone was relieved to hear the final bell and the UD was just a formality. Thompson found a way to entertain again as he suddenly took off his pants and remained in white underwear in front of the cameras. It is not clear what lead him to strip his pants, perhaps he absorbed too much punishment and lost coherence. His corner chased him for a while and managed to convince him to let them put his pants back on for the official verdict.
Congratulations to both fighters and especially to Pulev for taking this big step. He earned his shot at the title and I do not want to spoil the moment by discussing his chances against Wladimir.