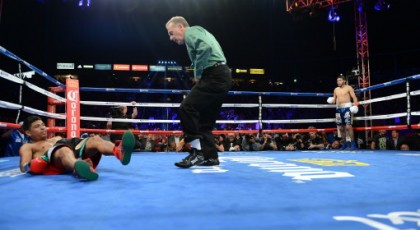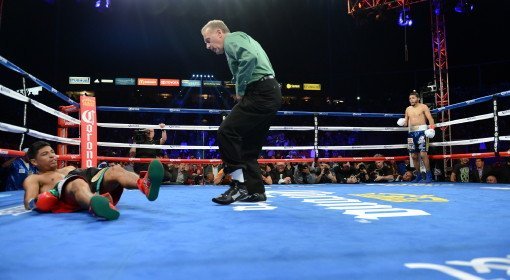 (Photo credit: Naoki Fakuda) WBC featherweight champion Abner Mares (26-1-1, 14 KO's) was stopped in the 1st round tonight by the hard hitting challenger Jhonny Gonzalez (55-8, 47 KO's) at the StubHub Center in Carson, California. Gonzalez knocked Mares down twice with left hands near the end of the 1st round to get the stoppage. Referee Jack Reiss called a halt to the fight after the second knockdown, even though Mares was getting back up, and probably would have been able to make it out of the round. That's the controversial part of it. Mares only had to stay on his feet for a short amount of time and he would have made it to the end of the round.
You can make an argument that Mares made two big mistakes in this fight that led to his defeat. His first mistake was to suddenly go after Gonzalez with 30 seconds left in the round. Mares showed no respect for Gonzalez' power when he went after him, and that resulted in Marez getting nailed by a left hook that put him down on the canvas.
It's really surprising the fight wasn't halted right then and there, because Mares was badly hurt from that shot. The second mistake that Mares made was to immediately start exchanging with Gonzalez after getting back up instead grabbing him and holding on in order to make it out of the round. Mares really showed his youth with that move, because he could have made it out of the round easily if he had simply held onto Gonzalez. It looked like Mares was too confident in his ability to take Gonzalez's power shots and it cost him the fight.
With this loss, it wipes out any chance of a Mares vs. Leo Santa Cruz fight for now. Mares no doubt will want to get a rematch with Gonzalez to try and prove that the defeat was just a fluke thing.
***
Challenger Leo Santa Cruz (25-0-1, 15 KO's) had too much power and too much ammunition for WBC super bantamweight champion Victor Terrazas (37-3-1, 21 KO's) in beating him by a two-knockdown, 3rd round demolition. Santa Cruz viciously bludgeoned Terrazas to the canvas with a series of powerful left hands to the head in the 3rd round.
Terrazas got back to his feet and resumed fighting. However, Santa Cruz quickly put Terrazas out of his misery by knocking him down a second time with a three punch combination to the head. The fight was stopped at 2:09 of the round with Terrazas said that he couldn't see out of his swollen right eye.
Terrazas' right eye began to swell in the 2nd round from the hard left hands he was getting hit with from Santa Cruz. It's unfortunate that Terrazas didn't realize that his right eye was swelling, because he didn't find out until the round was over. By then the damage was done. Terrazas' right eye was swollen to the point where vision was limited, and that made it easy for Santa Cruz to pound him with his left hooks one after another without Terrazas being able to see them coming.
There was no way that Terrazas was going to win this fight anyway, because he chose to fight Santa Cruz's game plan by getting in the trenches with him and fighting in close. Although Terrazas landed some really hard power shots of his own in the first two rounds, he was taking too much punishment from the harder shots thrown by Santa Cruz. In hindsight, Terrazas should have tried to box Santa Cruz and avoid exchanges, but that wasn't something that Terrazas could do because he's always been a slugger himself, and he couldn't change his fighting style overnight.
Other action on tonight's fight card in Carson, California:
Julian Ramirez TKO 1 Abraham Rubio
Antonio Orozco TKO 3 Ivan Hernandez
Joseph Diaz Jr. TKO 3 Noel Mendoza
Dominic Breazeale TKO 5 Lenroy Thomas
Ronald Gavril KO 2 Dave Courchaine
Lanell Bellows UD 4 Leshon Sims