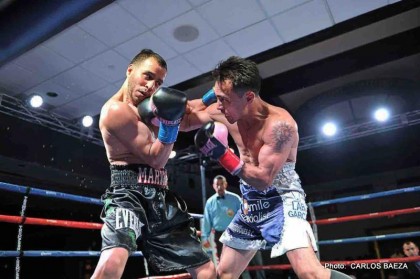 ORANGE, Calif. (Oct. 19, 2013) – Super bantamweight Enrique Quevedo cruised to a unanimous decision upset victory over San Diego-native Christopher Martin in the 8-round main event of Friday's Thompson Boxing Promotions fight card at the Doubletree Hotel in Ontario, Calif.
Quevedo handedly outpointed Martin by applying steady pressure, landing consistent combinations and never taking his foot off the gas, all the while making Martin look uncomfortable and unhinged.
"I came in with an excellent game plan and I executed it perfectly," said Quevedo, who lives and trains out of the Southern California port city of San Pedro. "Everything went well for me."
Official scoring came in at 79-73 through the three scorecards. Quevedo improves to 15-6-1, 9 KOs, while Martin moves to 27-3-3, 9 KOs.
The co-main event was an all-action slugfest between super bantamweights Juan Ramon Reyes of Riverside, Calif. and Daniel Roman of Los Angeles. Both boxers had their moments, but it was Reyes that managed to control the pace of the fight through his high punch output and savvy counterpunching. Reyes scored a unanimous decision win, 77-75 across all three judges scorecards. Roman moved well throughout the fight and landed consistent combinations, but Reyes stringed together more quality punches and dictated the rhythm of the fight from start to finish.
"I tried to wear him out and keep him off balance by not letting him rest between punches," said Reyes, promoted by Thompson Boxing Promotions and a Doubletree fan favorite. "I caught him gasping for air a few times and that's when I managed to land cleaner punches."
Reyes' record improves to 10-1-2, 1 KO, while Roman drops to 8-2-1, 3 KOs.
Undefeated bantamweight prospect Carlos Carlson delivered an electrifying performance with his third round stoppage of Guadalupe Barreras. Carlson, fighting out of Tijuana, Mex. and newly signed to Thompson Boxing Promotions, floored Barreras in the first with a crushing left hook to the head.
In the second, Carlson returned to his bread and butter punch, this time hitting Barreras with a left hook to the body, scoring another knockdown. Thirty seconds later, Carlson landed another left hook to the body that sent Barreras to one knee. In the third round, Carlson moved in for the knockout by stalking Barreras into corners and unloading on him. The barrage of punches finally caught up to him. Carlson ended the fight with a right hook to the body. The referee stopped the fight at the 1:41 mark of the third round.
"I wanted to come out and put on a great show for the fans," Carlson said. "This was my first Thompson Boxing show and I think I impressed everyone with my fan-friendly style."
Carlson improves to 10-0, 7 KOs, while Barreras, also from Tijuana, falls to 6-2-2, 2 KOs.
Light welterweight Israel Arellano of San Diego started fast against the more experienced Mario Hermosillo of Tijuana, Mex. In the third round, Arellano smashed Hermosillo with several power punches to the head and body that ultimately led to a knockout win at the 1:48 mark. Arellano is among several prospects recently signed to exclusive promotional contracts by Thompson Boxing Promotions.
Super welterweights Joshua Conley of San Bernardino, Calif. and Juan Carlos Sanchez of Mexico fought to a draw. Neither fighter was able to establish any kind of consistent rhythm. Conley landed the cleaner, stronger punches, while Sanchez scored through his active, yet reckless movements. Conley preferred to fight on the inside and landed numerous overhand rights and uppercuts. Conley, however, didn't start to put punches together until the final three rounds, which proved too late. One judge scored the bout 58-56 for Sanchez, another had it 58-56 for Conley and the third judge had it even at 57-57. Conley's record sits at 7-0-1, 6 KOs and Sanchez moves to 5-6-1, 4 KOs.
The opening bout showcased up and coming featherweight Erick Ituarte of Los Angeles versus Roberto Ventura of Mexico. Ituarte cruised to a unanimous decision win sweeping it 40-36 on all three scorecards. In the second round, Ituarte slammed home left hooks to the head and body.
Subsequent rounds followed a similar pattern. Ituarte remains undefeated at 6-0-1, 1 KO, while Ventura falls to 3-5, 1 KO.
All boxers on Friday's card wore pink on their gloves to help promote breast cancer awareness month. Thompson Boxing Promotions returns to the Doubletree Hotel for its final event of the year on Friday, Nov. 22. Full details on the event will be released soon.
"Locked 'n Loaded" was presented by Thompson Boxing Promotions and sponsored by Lucas Oil, in association with Time Warner Cable Deportes.