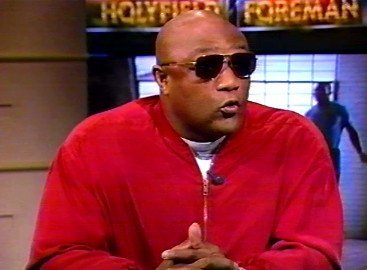 There are, and probably always will be, rumours among boxing folk that say Mike Tyson wanted no part of George Foreman. The two heavyweight greats fought their peak years in different eras, yet due to Foreman's astonishing 1987 comeback, there was serious talk as early as 1988 that the two lethal punchers would one day meet in the ring. The fight would have been a huge money-spinner but it never happened. Why? Was Tyson, far more mentally fragile than fans, at the time of his reign of terror (and even beyond), could ever have guessed, scared of "animal" Foreman? Or was the fight lost for some other reason? Without getting into that – and what does it really matter why the fight never happened – I make my case for what WOULD have happened had the two legends collided, as talk of the fight peaked, in late 1990.
The fight is held at Caesars Palace in Las Vegas on December the 8th, and a sell-out crowd is in attendance. There is not a seat to be had, nor has there been one for some weeks. The fight caught fire with fights fans everywhere and as a result was box office gold. Many celebrities are sitting ringside also, as they too are burning with excitement-filled curiosity as to what will happen when the old slugger collides with the young banger.
George Foreman makes his entrance first. Wearing the same shorts he wore when he fought as world champion back in the early 1970's, George is led through the arena by his handlers. Amongst these handlers is the legendary Archie Moore, a man who knows all about how to fight successfully as an old man. Also present is knowledgeable Foreman regular Charlie Shipes. The cheers are deafening as George squeezes his huge frame through the ropes and bounces across the canvas. Then Mike Tyson appears. Once more disdaining any unnecessary ring apparel – content instead with shorts, boots and gloves only, Mike is led in by his team. Though he has no-one as wise and experienced as either Archie or Charlie among his corner-men, Mike is confident in the abilities of his new trainer, Richie Giachetti. There are cheers as "Iron Mike" enters the ring, but a sprinkling of boos is also heard.
The great Chuck Hull does the intros as only he can and the stage is set. With the winner set to face the new heavyweight ruler Evander Holyfield, the most intriguing heavyweight clash in recent memory is also one that will decide which of the two men will see their hopes of fighting to regain their old title come to fruition.
Round one. The first bell is still an echo when Tyson comes thrashing out of his corner. He immediately opens up on George and cracks the old champ with a hard right. George instinctively holds and uses his massive strength to tie Tyson up. Referee Mills lane breaks the two huge punchers and Tyson looks to get back inside. Foreman, his timing upset by Mike's incredible speed, cannot get his jab working and consequently has no weapon with which to keep his raging opponent at bay. Two wicked shots, a left hook and a right uppercut, crack Foreman's jaw but amazingly he doesn't go down. With the crowd making a deafening amount of noise, George again instinctively reaches out and grabs at Tyson, buying precious seconds while his head clears. Any doubts some may have had about the quality of George's chin while boxing as a veteran have already proven to be completely unfounded. The question is, can he possibly carry on taking such punches?
With less than a minute to go in the round, after more hard work done by Lane in prying the two big guys apart, Foreman at last scores with a decent blow. A hard right hand to Mike's midsection, that lands as Tyson advances, momentarily slows him down. But then Foreman is back on the receiving end as his young rival lets loose with a blinding combination. A whistling left hook upstairs just misses Foreman's head, while two follow-up right hands connect. George, his chin tested more so than at any other time since the Ron Lyle fight, staggers badly and looks a dead-cert for the canvas. Instead, he stumbles into the ropes and remains upright to hear the bell. Already, it looks as though nothing but a bad beating lays in store for old George. Despite the lack of a knockdown, Tyson wins the round 10-8 on all three judges cards.
Between rounds George stands in his corner, as has been his habit during his comeback. Shipes tells him to get his jab pumping out and to time Tyson's rushes. On the other side of the ring Tyson sits and snarls.
Round two. Foreman's hands are noticeably higher now and he has a different look on his face. Fully aware of just how hard Tyson can hit him, "The Punching Preacher" now braces himself. Tyson works his way inside once more, yet curiously he doesn't let go with the same fast punches he did in round one when he gets there. Not right away anyway. Not as physically strong as Foreman when it comes to the wrestling, Mike waits for the ref to part them and, as Mills does so, unloads with three viscous punches on the break. Before Lane can get in to admonish Tyson, however, George retaliates, almost blindly, with a monstrous right hand. Shockingly, Tyson is wobbled by the massive punch. The crowd is now screaming itself hoarse! How can Foreman be doing what he's doing? He has taken Mike Tyson's best punches, three of them mere seconds ago, and yet he's come back to shake "Iron Mike."
Now, for the first time, Tyson knows he's got a fight on his hands. For some reason, the easy win that only a minute or so earlier had looked right on the cards for him, has vanished. Regrouping following the hurtful punch, it is now Mike's turn to wear a thoughtful look. Tyson weaves his way inside and lands with two hard shots to Foreman's body, as he does so, George shoves him off him and then blasts the smaller man's head upwards with an uppercut somehow retrieved from the 1970's. Tyson is rocked on his heels and George forces himself forwards to follow up. He misses with a sweeping left but catches a groggy Tyson with a thumping right to the temple. Tyson crashes to the floor! The scream can be heard all over Vegas and Lane rushes in and begins counting.
The count reaches five and Tyson climbs to his feet. George now advances and, with astonishing calmness, cranks out four slow but perfectly accurate sledgehammers to Mike's head and jaw. The final punch, a right to the very point of the chin, sends Tyson to his knees. Again George is sent to a neutral corner and again he rests his arms along the top rope as he stands in a cross-legged stance while watching his opponent attempt to rise. This time though, he cannot – at least not in time. Tyson is counted out in the act of rising.
George Foreman, who tosses a wink at commentators Larry Merchant, Jim Lampley and his old trainer Gil Clancy, is the winner at two minutes and fifty-seconds of round number two.