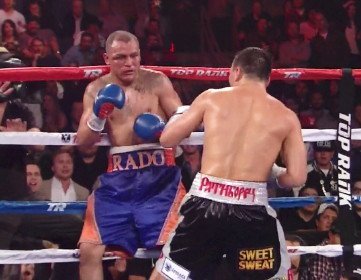 With his methodical destruction of Mike Alvarado Saturday night and FOTY effort against Timothy Bradley earlier in 2013, Siberian native Ruslan Provodnikov has catapulted himself from ESPN house fighter to HBO house fighter. Both fights were all action affairs with Provodnikov taking as much as he was giving, in some instances taking two or more punches to land one big punch.
In both fights and throughout his career, Provodnikov forced his opponent to fight his fight taking no quarter, giving no quarter. Both Bradley and Alvarado went down from the Siberian Rocky's pressure and ability to absorb punishment. With these performances Provodnikov puts himself right in the middle of the 140lb and 147lb mix, with many good fights available to him including a Bradley rematch, and the Pacquiao/Rios winner.
Not being a Top Rank fighter except for the fight option owed to Top Rank to get the fight against Alvarado, Provodnikov's promoter can choose to match him against fighters not exclusive to the Top Rank promotional banner. Also available to Provodnikov are Danny Garcia, Lucas Matthysse, Marcos Maidana, Adrien Broner and any other Golden Boy Fighters…including Floyd Mayweather Jr. who has co-promotional relationship with Golden Boy.
Now, I'm not jumping the gun saying that Provodnikov is in the Mayweather sweepstakes, he's not. But a couple of good wins down the line could change that. After all, Provodnikov unlike Canelo Alvarez was able to make two credible fighters fight his fight and be the worst for wear afterwards (Bradley was concussed and Alvarado's face was grossly misshapen). Maybe Provodnikov will become the BEAST that can take Floyd Mayweather out of his comfort zone, maybe Provodnikov can make Floyd fight his fight and dish out a similar beating to the P4P King. Even though I'm not jumping the gun predicting a Mayweather/Provodnikov matchup, I'm sure the Mayweather NAYSAYERS and HATERS CAN imagine, even consider such a bout probably with a Mayweather beatdown in mind.
Floyd Mayweather has 4 fights left to his careers end and boxing immortality. 2.4M and 2.2M PPV buys sets the bar VERY high even for Money Mayweather, 1.2M PPV buys 'ain't gonna do it'! Mayweather's ability to DRAW interest, PPV purchases and CASH big checks is based primarily on the PREMISE that whomever Mayweather faces is going to beat the 'shit' out of him and end his undefeated run by KO. That's what was thought would happen against De La Hoya and Canelo. The current batch of probable Mayweather foes; Amir Khan, Danny Garcia, and Devon Alexander have almost no chance of defeating the undefeated champion and will garner interest FAR short of the PPV numbers and revenues expected by Mayweather's financial backers.
Just saying, if Provodnikov gets a couple more good wins under his belt in the devastating fashion by which he's presently doing things I wouldn't be surprised if he becomes part of the Mayweather conversation and obsession to see Mayweather devastated and unable to end his career undefeated.