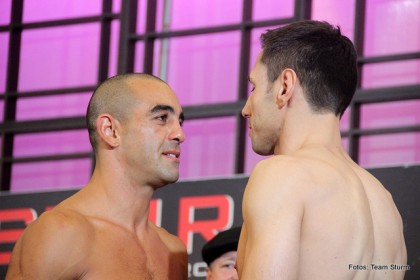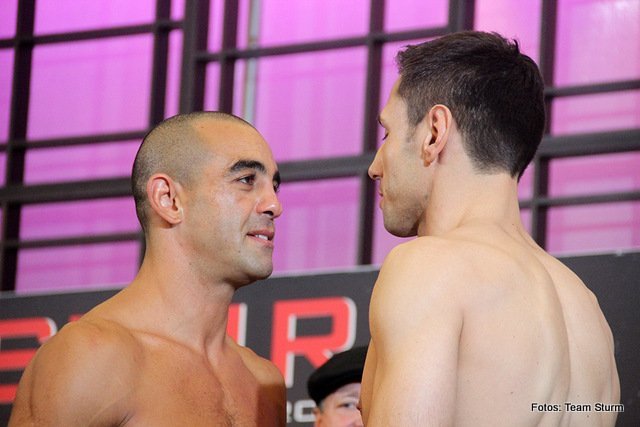 By Jeff Sorby: Former WBA Super World middleweight champion Felix Sturm (37-4-2, 16 KO's) tasted defeat on Friday night in losing a surprising 12 round unanimous decision to 39-year-old Sam Soliman (43-11, 17 KO's) in an IBF middleweight eliminator bout at the ISS Dome, in Düsseldorf, Nordrhein-Westfalen, Germany.
The final judges' scores were 116-111, 114-113 and 114-113. Sturm knocked Soliman down with a hard right hand in the 2nd round, and him in trouble late after almost knocking him down again. However, Sturm stopped throwing as many punches after the 2nd round and that caused the fight to get away from him.
Sturm was still landing the harder punches and tagging Soliman consistently with his jab, but he was letting Soliman out-work him from the 3rd round on. Sturm' left eye began to swell up after the 5th, and he a lot of problems with Soliman's unorthodox fighting style.
Sturm did well when Soliman would stand directly in front of him in a traditional fight, but Soliman rarely did that. It seemed like he as always moving and hitting Sturm from angles that he wasn't expecting. When Sturm would attempt to clinch, Soliman would tag him hard each time to the head and body, so there was very little rest for Sturm.
***
Former female flyweight champion Susi Kentikian (29-2, 16 KO's) halted her two-fight losing streak to win a harder than expected to 10 round unanimous decision over the inexperienced Belgian Sanae Jah (7-1, 2 KO's) to capture the interim WBA female flyweight title. The final judges scores were 99-91, 98-93 and 97-92. Kentikian's right eye was cut and badly swollen by the end of the fight. She was able to knocked Jah down with a right hand in the 7th to pull away from her after the first six rounds which looked to be pretty even. I had the fight even going into the 7th. After the 7th, Jah came back strong in the 8th, staggering Kentikian with several hard combinations. The 9th was pretty close and could have gone either way. In the 10th, Jah dominated the bloody and battered Kentikian.
I had Kentikian barely winning the fight. She was getting hit way too much, and not looking like a former champion. It's not a good sign that she had to struggle with a fighter with only 7 fights under her belt. I can't see Kentikian remaining a champion for long unless she's matched carefully because the female flyweight division has gotten so much since Kentikian first captured a world title seven years ago. She had lost her last two fights, and she would have likely lost tonight if she wasn't facing a near novice in Jah.
Other boxing results on the card:
Alex Born TKO 2 Rafal Raczynski
Magomed Yangubaev TKO 1 Suleyman Dag
Maurice Weber UD 6 Mariusz Biskupski
Adnan Redzovic UD 6 Niko Falin
Lolenga Mock UD 8 Patrick Dobroschi