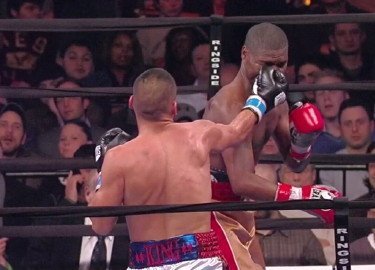 By Joe Harrison: Junior middleweight contender Carlos Molina (21-5-2, 6 KOs) defeated former two-division champion Cory Spinks (39-8, 11 KOs) by a unanimous decision in front of 5,354 screaming fans at the UIC Pavilion in Chicago, IL. The contest was the main event on ESPN's Friday Night Fights.
Spinks showed very little fight as Molina frustrated him with his accurate punches and stellar defensive skills throughout the 12-round IBF eliminator. Spinks simply could not find an answer as Molina pressed forward and bullied him around the ring. Although Spinks was able to land an effective punch here and there, he mostly resorted to clinching to avoid further punishment.
Spinks was deducted a point in round four for excessive holding. Spinks was also dropped by a left hook in round eleven. In round twelve, Spinks received a standing eight count when it was ruled that the ropes held him up from going down again. In the end, the scores were 119-106 twice and 120-105, all for Molina.
In the co-feature, Antwone Smith (23-4-1, 12 KOs) defeated former champion Jose Luis Castillo (64-12-1, 55 KOs) by a ten-round unanimous decision. The bout was held at a catch-weight of 156-pounds.
Castillo stalked Smith round after round, but he had little effect as Smith consistently countered him by landing uppercuts. Castillo was also deducted a point in round four for low blows. In the end, Smith was too fast and too strong, winning by scored of 100-90, 98-92, and 99-91.
Also, undefeated heavyweight prospect Artur Szpilka (13-0, 10 KOs) knocked out Mike Mollo (20-4-1, 12 KOs) in the sixth round of a scheduled eight-round contest.
It was an action packed brawl as Mollo stormed after Szpilka in an early attempt to knock out his opponent. Instead, Mollo, who hadn't fought since August of 2010, was off balance and swinging wildly. Later in the opening round, Mollo connected during a clinch and Szpilka went down.
During the next couple of rounds, Szpilka picked Mollo apart with his long jab and straight lefts. Blood began to poor down the face of Mollo, but he continued to go on the attack in a desperate effort to end the bout early. It almost happened as Mollo dropped Szpilka again in the fourth round, but Szpilka rose back to his feet and the battle continued.
In round six, Mollo continued to take hard punches from Szpilka. Suddenly, Szpilka landed a couple of hard lefts, which sent Mollo backward and down for the count. The end came at the time of 2:45.
Plus, super middleweight Donovan George (24-3-1, 21 KOs) knocked out James Cook (11-5-1, 8 KOs) in round one. The official time was 1:36.
In addition, super middleweight Mike Jimenez (9-0, 6 KOs) scored a second-round TKO over Jordan Brown. The official time was 1:26.
Welterweight Jimmy Murphy (2-0, 2 KOs) defeated Al Carson (0-2) by a first-round TKO. The official time was 1:36.
Welterweight Jaime Herrera (10-2, 5 KOs) earned a first-round TKO over Marlon Smith (2-3, 1 KO). The official time was 2:38.
Cruiserweight Junior Wright (6-0, 6 KOs) knocked out Tim Johnson (4-3, 2 KOs) in the second round. The official time was 56 seconds.