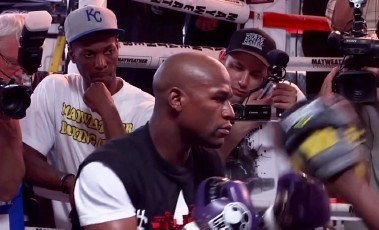 By Robert Jackson: The P4P King Floyd Mayweather Jr. (43-0, 26 KO's) of boxing has penciled in on his schedule 2 dates for the 2013 boxing season: May 4, 2013 and September 14, 2013. But what has not been penciled in are his opponents for either date. On the short list of Mayweather foes are Robert Guerrero, Canelo Alvarez and Timothy Bradley (only a rumor). Other possible foes could be Austin Trout, a Miguel Cotto rematch, Manny Pacquiao and Sergio Martinez.
Mayweather the consummate businessman has always said "if it makes money it makes sense" and any of the fights on his short list will definitely make money only because of the chance that Mayweather could lose. A high number of Mayweather fight buys are made by buyers hoping to see Mayweather clearly defeated in the ring. What's also interesting are the dates that Mayweather has chosen to fight on – both of which are traditional Mexican Holidays. So it can be speculated that Mayweather will want to fight Mexican fighters to maximize the profitability of these fights. So that bodes well for Canelo and Guerrero.
Mayweather the businessman has always been coy about the moves he makes inside the ring, but outside the ring that's a different story. And making everyone wait for his May 4th choice of opponent builds up the drama and anticipation, which in turn should pump up the PPV buys. Money Mayweather knows how to make value in that regard. If he were to announce his choice too soon, not allowing things to simmer for a bit, PPV buyers wouldn't be interested. We all know by this point in time that Mayweather will be choosing Robert 'The Ghost' Guerrero (all the other names thrown out there are just subterfuge) and the longer he delays the announcement gives the boxing public time to develop opinions for and against that choice. The delay will also deliver Mayweather naysayers and critics into mindset that he could be scared of Guerrero and that Guerrero can WIN!
Any fight where the possibility that Mayweather can lose is an option is a GOOD fight for Mayweather especially against a lifelong featherweight/lightweight who has never faced an elite fighter, or cleared out either the 126lb or 135lb divisions before moving up the 147lb division…and beating a couple of handpicked hacks. Along with Guerrero's brave stance and insistence that he will beat Mayweather, it's Mayweather's haters who will ultimately make this fight, because he knows at first they will be against it, they will say he's cherry picking, then as he delays announcing it, those same critics will say he's AFRAID of Guerrero and give 'The Ghost' a good chance of beating Mayweather – especially after how he beat Andre Berto (Floyd is no Berto), thus giving their blessing to this fight. And everybody else will go along for the ride and get on the Guerrero bandwagon dishing out $60 to see Guerrero get beaten.
So it's quite obvious who Mayweather will fight next – Robert Guerrero, in May, then the undefeated (but worse for wear if he faces Austin Trout) Canelo Alvarez in September.