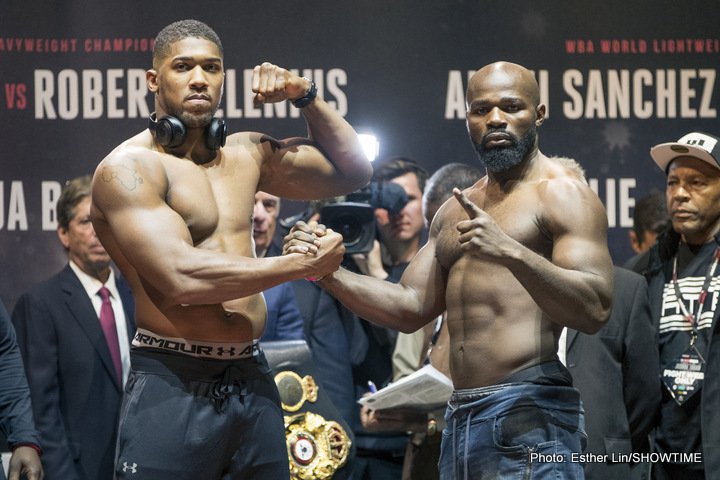 Eddie Hearn's Matchroom Sports posses arguably the biggest star in boxing (especially worldwide) a rarity for a fighter whom resides in the United Kingdom. Of course an argument could be made for Canelo Alvarez who fights in the states where the PPV cost is 3 to 4 times more expensive. Either way Anthony Joshua has that 'IT' factor written all over him. He's got the looks, the power, and in his last outing showed how big of a heart he has. That's not to say AJ doesn't have any weaknesses he surely does.
A fighter's stamina and chin can sometimes coincide to cause serious problems. Anthony's chin had been in question long before Wladimir Klitschko knocked him down in the 6th round. Video of Joshua getting knocked down in the amateurs along with plenty of sparring rumors have plagued Joshua to an extent. Ultimately the proof is in the pudding and Joshua showed the ability to recoup against Wlad and Dillian Whyte.
When it comes to the topic of stamina that's a different story, clearly Joshua has some issues enough so that it's probably the only thing standing in his way of unification and world dominance. Well that and the right hand of Deontay Wilder. At some point in a fighter's career everyone punches them self out or gasses in a fight. The key is how one responds to getting tired and why it happened in the first place. We got to see firsthand how Anthony reacts to being dog-tired against Klitschko.
Something that troubles me as an observer was that fact it took almost 3 full rounds for Joshua to get his second wind. Luckily he had a guy like Wlad across the ring from him Klitschko has always been reluctant to take chances during in his decade long reign. What's even more troubling is Joshua never really went punch crazy in the way of volume when he had Wlad hurt in the fifth round. He did try to go for the knockout it just seems he got winded after a very short flurry.
Having a little extra weight for more durability was probably a negative for Joshua. Something he has even brought up during this fight week for Carlos Takam. Leaning out just a tad and making sure he's doing enough cardio for future fights is the game plan as he explained. All things considered if AJ is on his game I don't really see anyone around the globe able to defeat the man who grew up 10 minutes away from Wembley Stadium.
As far as breaking down his bout with Carlos Takam I really do favor Joshua. Don't get me wrong, Takam can make it very entertaining on the way to a Joshua victory. Takam is about as good as a replacement fighter on short notice knowing he had been training in a reserve role. Takam brings a solid chin, good pop, and most importantly a winner's mentality. Personally this hack scribe thought Carlos had done enough to come away victorious versus Joseph Parker. If Takam wants to upset the apple cart he's got to hurt Joshua in the early goings. Just image how quietly shocked the 78,000 U.K. fans would be if Takam drops AJ.
I do think will see some improvements out of Anthony Joshua after learning some hard lessons on the job in April. There were a few moments of vulnerability in his fight with Dillian Whyte as well. I was impressed how Joshua made some adjustments and I fully expect to see more of that on Saturday.
When these two giants enter the ring we can assume both men will lay it all on the line. Beyond a few troubling moments in the first 3 to 4 rounds look for Joshua to take over thereafter.
My Official Prediction is Anthony Joshua by late stoppage.
Side Note: The last quarterfinal of the World Boxing Super Series takes place in Germany as Rob Brant takes on Juergen Braehmer in the super middleweight division.
Written by Chris Carlson Host/Producer of The Rope A Dope Radio Podcast Available on Apple Podcast (ITunes), Player.FM, Stitcher, Tunein, www.blogtalkradio.com/ropeadoperadio & More! Follow on Twitter @RopeADopeRadio