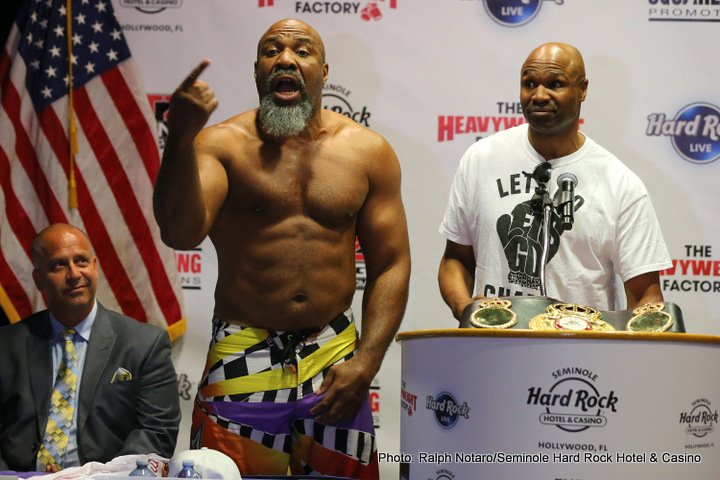 There sure is some crazy comeback talk fluttering around the boxing word right about now: what with Oscar De La Hoya saying how he has been "secretly training" and how he needs just "two rounds" to stop MMA star Conor McGregor, and with Julio Cesar Chavez, who pretty much disgraced himself in his last fight, against Canelo Alvarez, plotting yet another ring return of his own (would you pay good money to see him fight again?)
But leave it to the best talker in the game, Shannon Briggs, to come out with the most outlandish talk. Briggs, who is now 45 years old and hasn't boxed since he scored a first-round blowout back in May of 2016, insists on calling out Tyson Fury. Briggs, as fans may have heard before, wants to face Fury in the former heavyweight champ's first fight back in his anticipated 2018 ring return (Fury still to obtain a licence to box of course). Now, however, Briggs has added another name to his own comeback ideas: Wladimir Klitschko.
"My target is Tyson Fury," Briggs told Sky Sports. "He's a chump, he's a punk. He shot some words at me on twitter but he's scared of me. It's a tough road back for him and I'm a fight that he doesn't want. This is the biggest fight for both of us, besides him getting a massive title fight. If he needs a tune-up for a title fight, why not fight a 45,000 year old man? I like Fury but I want to knock him out. Once I knock out 'the whale' – that's what I call Fury – I bet that Wladimir Klitschko will come back [to fight me.]"
Briggs, 60-6-1(53) certainly has a fertile imagination. While a fight between he and Fury seems unlikely, a Klitschko return, against anyone, looks even more unlikely to happen than the De La Hoya-McGregor fight. Wladimir, a smart guy, has let it go, something Briggs is apparently unwilling, or unable, to do.