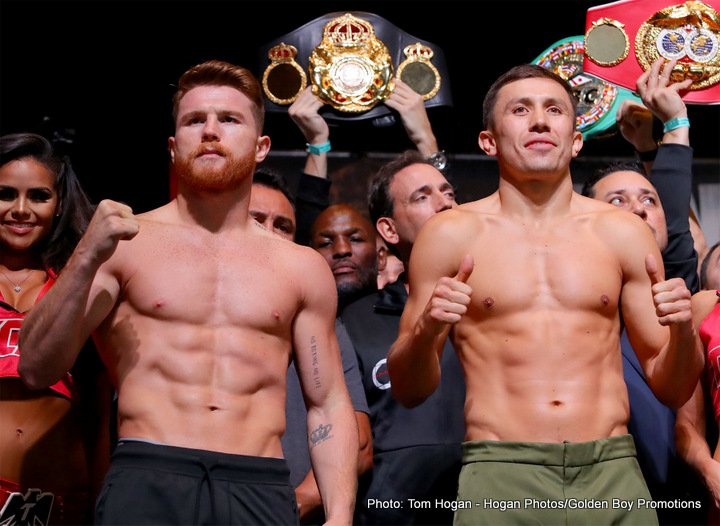 It's far from the kind of news fights fans eager to see a return fight between middleweight king Gennady Golovkin and Mexican superstar Canelo Alvarez want to hear (and who doesn't want to see a sequel – ideally one with a definitive ending – to the September draw!), but Golden Boy head Oscar De La Hoya has conceded how talks for the fight are "going slow."
As per an interview picked up by FightHub, De La Hoya said that Cinco de Mayo has been "reserved" for Canelo, with a date in September also set aside for a Canelo fight, but that there is no guarantee yet who the flame-haired warrior will face on either date.
"[Negotiations] are ongoing, they're slow, nothing in concrete. We haven't really discussed any details," De La Hoya said. "Obviously that fight wants to be made – it has to be made. You know, Triple-G wants it, Canelo wants it we want it, but I think we're gonna enjoy the holidays. After December, hopefully we will sit down and seriously discuss when and where it'll take place. Look, whatever the fans want is what we're gonna try and make and I know as a promoter that the best fights have to be made and that's the reason we've already reserved Cinco de Mayo for Canelo, and we've reserved September for Canelo. So, look, whatever Canelo wants, we're gonna sit down in the next couple of weeks and discuss future plans."
So, don't go holding your breath on seeing the most important boxing rematch that could possibly be made in 2018, in, well, in 2018. "Whatever Canelo wants," is not a phrase GGG and his fans will be overjoyed to hear, is it? De La Hoya, when asked by FightHub's reporter if Canelo may face the winner of the Billy Joe Saunders-David Lemieux fight if Lemieux wins, replied: "Well, I'm not mandating it but there are some serious fights coming up that interest me."
Is this the fight Canelo may take if a GGG return is not made? If so, will YOU be happy about it? A casual fight fan may ask how, when a fight is as universally demanded as the GGG-Caelo rematch is, it can be "slow going" in talks? How indeed. But as hardcore boxing fans know only too well, things are seldom if ever as simple and as straightforward in this sport as they should be.
Will we get to see a GGG-Canelo return, and if not, how will the fans, the Mexican fans in particular, respond? As Oscar said himself, this is a fight that "has to be made."