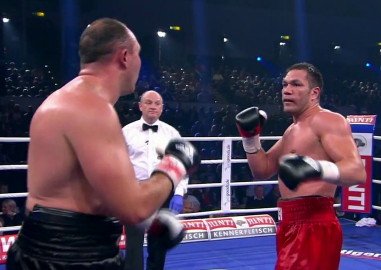 Bulgarian heavyweight Kubrat Pulev (20-0, 11 KO's) believes that he's got the talent to beat IBF/IBO/WBA/WBO heavyweight champion Wladimir Klitschko (62-3, 52 KO's) and take away all of his 4 world titles in their fight on September 6th at the O2 World Arena, Altona, in Hamburg, Germany.
While the 33-year-old Pulev hasn't fought anyone good enough to give you any kind of indication that he'll be able to beat Wladimir, he still comes across like someone who is dead certain that he's going to be victorious over the 38-year-old Ukrainian.
"I will get the titles. I am ready to replace Wladimir Klitschko as the world champion," Pulev said via ESPN. "This fight is the highlight of my career. I will show the fans worldwide that Klitschko is no invincible machine and fulfill my dream. I have worked hard for this chance."
For Pulev to beat Wladimir, he's going to need to look much better than he did in the Tony Thompson fight, because the Pulev that beat Thompson would be little more than a punching bag for Wlaidmir. Pulev showed little more than a good jab and not much else in the Thompson fight. He's also not looked all that great in most of his other fights during his career.
Pulev seemed to be a better fighter when he was fighting in the amateur ranks, because he was able to fight hard for 3-4 rounds and not have to worry about his lack of punching power. Pulev fought well as an amateur in Bulgaria. He only ran into problems when he was put in with the very best such as Roberto Cammarelle, Odlanier Solis and Oscar Rivas. They all beat Pulev soundly in the amateur ranks.
There's still a lot of unknowns about Pulev in terms of his talent. His German promoters haven't really tested him since he turned pro, as his fights have been against B and C level heavyweights like Alexander Ustinov, Alexander Dimitrenko, Michael Sprott, Travis Walker and Thompson. Those fights told us absolutely nothing about Pulev other than the fact that he mostly jabs, he can punch and that he backs quickly each time his opponent comes at him to try and throw a shot.
If all Pulev is going to do against Wladimir is jab, he's going to lose badly on September 6th, because Wladimir has a better jab and he more power, speed and a far better assortment of punches to use.
With Pulev, he throws jabs and then tries to land a slapping shot every now and then. It works against the B and C level fighters, but his promoters never tested him against a good contender. And when you have a fighter who hasn't been tested against the upper level competition the way that Pulev hasn't been, it suggests that he's going to fail badly when he gets into the ring with the real thing. Pulev will be lucky if he makes it to the 6th round against Wladimir on September 6th. This fight has the makings of a mismatch, and you've got to blame the IBF for not making sure that Pulev had to beat someone good to earn this fight.