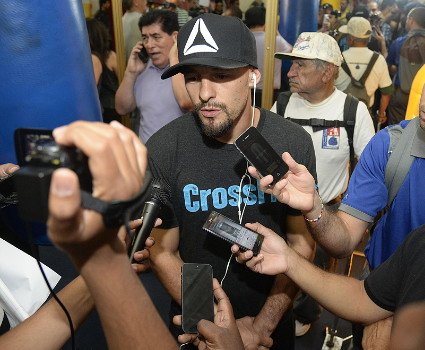 (Picture credit: Hogan Photos) Robert "The Ghost" Guerrero (31-2-1, 18 KO's) will be looking to take Yoshihiro Kamegai's scalp quickly and painlessly this Saturday night at the StubHub Center, in Carson, California, USA. Guerrero believes that a big win over the KO artist Kamegai (24-1-1, 21 KO's) could put him back on the path for a second fight against WBA/WBC welterweight champion Floyd Mayweather Jr.
Guerrero feels that the 37-year-old Mayweather has run out of opponents in the welterweight division, and he needs someone like him to give him a name for him to fight.
Besides that, Guerrero says he's improved since his loss to Mayweather last year in May. He says that his conditioning is better now, and that he's fighting smarter.
"If I take care of business I would of course like to fight Floyd Mayweather. Everyone would like that fight," said Guerrero. "I felt like I could give a lot more and I am excited to showcase everything that I have been doing to prove that I can hang with a fighter like Mayweather. Floyd is a pretty smart fighter but I can stay on my boxing game now, be a smarter fighter and walk guys down."
A Mayweather-Guerrero II fight might be of interest to some boxing fans, but Guerrero is probably going to need to beat someone a little better known than Kamegai for him to create any buzz for a second fight against Mayweather. In other words, Guerrero won't be able to take his way into a second fight against Mayweather after beating Andre Berto and Selcuk Aydin.
Guerrero's going to need to beat some relevant fighters and not guys that are names from the past for him to get anyone interested in seeing him fight Mayweather again. Kamegai is not a fight that will do anything for Guerrero other than help him with his rankings, and potentially make him look good if he can take care of this guy quickly. But there's also the possibility that Guerrero could come off looking bad in this fight if Kamegai is able to put hands on him, because the Japanese fighter can punch every bit as hard as Berto and Aydin, if not harder.
Kamegai also seems to be a smart fighter who wouldn't make the same mistakes that Berto did by fighting off the ropes for 12 rounds against Guerrero. Kamegai puts his punches together, unlike Aydin, so Guerrero is going to be getting hit a lot in this fight on Saturday night. If he isn't able to get Kamegai out of there fast, he's going to take some punishment before this one is over.