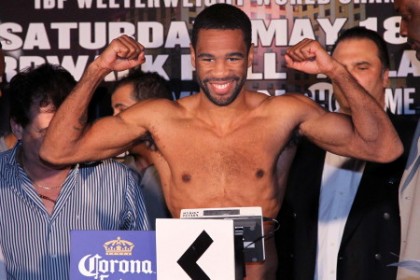 (Photo credit: Casino/Showtime) IBF light welterweight champion Lamont Peterson (31-1-1, 16 KO's) faces Lucas Matthysse (33-2, 31 KO's) in a catchweight fight at 141 lbs. at the Boardwalk Hall in Atlantic City, New Jersey. Peterson's title won't be on the line because the fight will take place one pound over the 140 lb. limit at 141.
Peterson has been saying all week long that he doesn't have any fear of Matthysse's power, and that he's not going to let Matthysse's reputation for being a huge puncher stop him from fighting his normal fight.
In other words, Peterson plans on walking Mattysse down and standing in front of him all night long to slug it out. If Peterson does fight like that he could end up being sorry he did it because Matthysse is a lot bigger puncher than anyone Peterson's fought before in the past.
The best possible way for Peterson to fight tonight is for him to jump in to land some quick combinations and then immediately mover away to the outside to keep from getting hit. This is what Devon Alexander and Zab Judah did to beat Matthysse in the recent past, and it's something that could work.
However, Matthysse is a lot more of a pressure fighter now compared to the way he fought in the past, and he's likely going to cut off the ring on Peterson and force him to fight.
Peterson isn't one of those types of fighters that have to be coaxed into mixing it up with his opponents. If his opponents want to trade with him he's only too happy to do so. But if Peterson doesn't figure out early on tonight that it's a bad idea for him to mix it up with Matthysse then he could end up taking a beating and getting stopped.
It's difficult to picture Peterson doing well in this fight because he's tailor made for Matthysse, and he doesn't have the kind of power needed for him to have success in a toe-to-toe battle with the Argentinian.