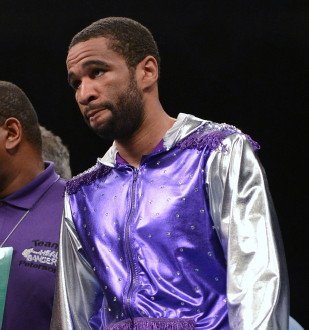 (Photo credit: Naoki Fakuda) Amir Khan thinks it's going to be difficult for IBF light welterweight champion Lamont Peterson to come back from his 3rd round TKO loss to Lucas Matthysse last Saturday night. Peterson was annihilated by Matthysse in a three-knockdown loss at the Boardwalk Hall in Atlantic City, New Jersey.
As soon as the fight ended, Khan immediately started chirping about how he thinks he can beat Matthysse and it was quite amusing to listen to him considering he just struggled to beat Julio Diaz.
Khan said to Sky Sports News "It's hard to see Peterson come back from a devastating knockout like that…the 140 division is the most exciting division and it's made me want to stay in it. I've said I'm going to move up to 147, but I've not made that move yet. I want to mix it up with these guys."
Khan seems like he's coming from up high in speculating that Peterson will have a difficult time coming back after his knockout loss. It's not as if Khan has never been knocked out before. Khan's knockout losses to Breidis Prescott and Danny Garcia were far worse than the one Peterson suffered last night at the hands of Matthysse.
Khan may have to convince Richard Schaefer of Golden Boy Promotions that it's a good idea for him to stay at 140 rather than moving up to fight Floyd Mayweather Jr. or Devon Alexander at 147.
The choice seems to be a pretty easy one when you look at it from a logical perspective. If Khan moves up to 147, he might be able to get a $3 million payday against Mayweather.
If he stays down at 140, Khan will likely get one-third of that to face Matthysse, Danny Garcia or Lamont Peterson, and he's just going to get beaten all of them anyway. He might have a chance to beat Peterson if he can handle the pressure better than he did last time, but I have my doubts he can.
Julio Diaz had Khan staggering around the ring like a drunk and Peterson is a lot better pressure fighter than Diaz. Khan had to hold and shove for 12 rounds against Peterson. Take away the shoving and holding by Khan, and I'd be willing to be he'd get knocked out.