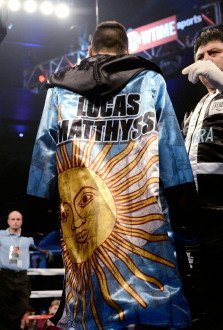 (Photo credit: Naoki Fakuda) Bernard Hopkins was very impressed with the power that he saw from WBC interim light welterweight champion Lucas Matthysse (34-2, 32 KO's) in his 3rd round TKO win over Lamont Peterson (31-2-1, 16 KO's) last night. Hopkins compared Matthysse's power to that of a heavyweight due to his three knockdowns of the normally strong-chinned Peterson.
Hopkins said after the fight "I've never seen a light welterweight punch like a heavyweight. I'm very impressed. This is the real deal. There's a lot of people worried at 140. They're not sleeping good tonight."
One of those people in the 140 lb. division who may not be sleeping well now is WBA/WBC light welterweight champion Danny Garcia because he's going to have to fight Matthysse in September in Washington, DC, unless Garcia chooses to duck the fight and let the World Boxing Council strip him of his title for failing to fight his mandatory challenger for ages.
It's definitely time for Garcia to fight Matthysse, and the only way he can get out of it now is to vacate or if the WBC keeps letting Garcia fight other guys without stripping him of his belt.
Matthysse showed big power in knocking Peterson down with a left hand in the 2nd, and twice more in the 3rd round with lefts. Peterson only has himself to blame for his two knockdowns in the 3rd round because he knew going into the fight the kind of power that Matthysse had in both fists, and yet he still chose to stand and trade with him in the 3rd.
Peterson must have thought he could get away with it because it was just lunacy for him to take that kind of risk. At the post-fight press conference, Peterson said he got upset about getting hit with a rabbit punch in the 2nd round and that led to him wanting to pay Matthysse back.
So it sounds as if Peterson was still hot-heated about the rabbit punch a round later because he was finished off in the 3rd round, not the 2nd round. Peterson should have been able to calm down by the 3rd and realize that he had to fight with intelligence instead of anger.
I don't buy Peterson's excuse for why he was knocked out. He was stopped because he couldn't handle the power of Matthysse and because he made the mistake of trying to trade shots with him.