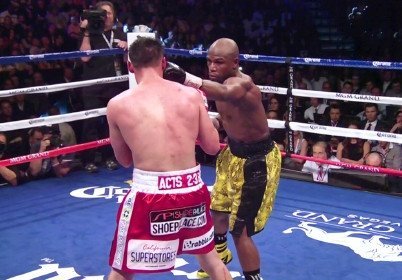 Dan Rafael of ESPN is still standing behind his source for the final pay per view numbers for the Floyd Mayweather Jr. vs. Robert Guerrero fight despite Showtime saying that the fight will bring in over 1 million buys when the final tally is in.
Rafael says his source is telling him that the Mayweather-Guerrero final PPV numbers will be only 870,000 PPV buys, a much lower number than what Showtime is saying.
Rafael said on his chat this week: "I have good industry sources who swear on their children that this fight will not reach 1 million buys, much less be 'in excess' if 1 million and I believe them. These are people with no dog in the fight who I respect and have known for many years and trust. I am told that the number right now is about 870,000 buys."
Rafael doesn't think another 130,000 buys are going to materialize by the time the final tally is in.
If the numbers that Rafael is taking about is true then it makes it even more for Mayweather to agree on a fight against WBA/WBC junior middleweight champion Saul "Canelo" Alvarez for September because only Canelo has the popularity to shoot Mayweathyer's PPV totals back well above 1 million PPV buys. The only fighter besides Canelo that can do this is Manny Pacquiao, but of course that will likely never happen due to a number of reasons that are well known to boxing fans.
Rafael said recently that for Showtime to turn a profit on the Mayweather-Guerrero fight it would have had to bring in between 1.1 to 1.2 million PPV buys. At 870,000, it would appear that the fight will be a loss for Showtime, if what Rafael says is true.
A fight between Mayweather and Canelo will no doubt have to take place at 154 because Canelo is too heavy to make it down to 147, and he's barely making it to 154. He weighed 172 for his last fight at 154, and he's been regularly fighting at around 166. Mayweather will likely be giving away between 15 to 20 pounds against Canelo. That won't hurt Mayweather in terms of speed, but it might hurt him when it comes to taking the heavy shots from Canelo.
After all, Mayweather comes into his fights at 150, and if he's getting hit by a super middleweight/light heavyweight sized fighter like Canelo, it could be difficult for Mayweather. It would be the same as if Canelo were to fight Guillermo Jones, a fighter that out-weighs Canelo by 20+ pounds and fights at cruiserweight. I wouldn't like Canelo's chances against Jones.
The only way to be fair in the Mayweather-Canelo fight is for it to take place at 154 with a catchweight of no more than 158. That would still give Canelo an 8 pound weight advantage over Mayweather, but it would save Mayweather from having to fight a light heavyweight-sized Canelo. With the rehydration clause, the secondary weigh-in would have to be on the day of the fight and with a steep penalty in case Canelo chooses to ignore the rehydration clause and rehydrate up to 170.