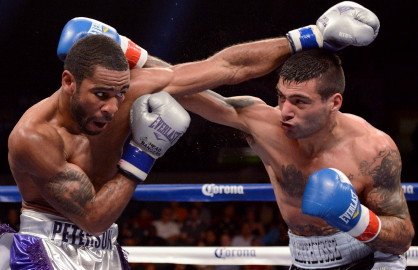 (Photo credit: Naoki Fakuda) IBF light welterweight champion Lamont Peterson (31-2-1, 16 KO's) tried to explain away his 3rd round TKO loss last night to Lucas Matthysse (34-2, 32 KO's), saying that he had got angry after Matthysse nailed him in the back of the head with a rabbit punch in a clinch during the 2nd round.
That shot caused Peterson to get out of his game plan and start slugging with Matthysse instead of boxing him like he'd done in the 1st round with good success.
Peterson said after the fight "The game plan was to keep boxing. Sometime in the 2nd round, he hit me in the back of the head. I got a little upset. I started to get a little more reckless and I wanted to bang. I could feel the fight heating up, and I kind of abandoned the game plan a little bit and I paid for that."
It's really not much of a surprise that Peterson abandoned the game plan he had for the fight because it was pretty much evident that he wouldn't be able to stick to a pure boxing game plan for 12 full rounds due to it being such a huge change from how he normally fights.
Peterson tends to trade with his opponents, and that's something that has brought him a lot of success during his 9-year pro career. To expect him to box for 12 rounds without ever mixing it up with Matthysse was just impossible for him to do.
It wouldn't have been physically impossible if he had a lot of discipline, but clearly he couldn't focus and all it took for Matthysse to get him out of his game plan was for him to nail him with a hard shot to the back of the head during one of the clinches in the 2nd round.
Matthysse wasn't just going to let Peterson clinch him all night long without making him pay for those clinches, and Peterson made the mistake of reacting the wrong way after getting hit with a rabbit shot.