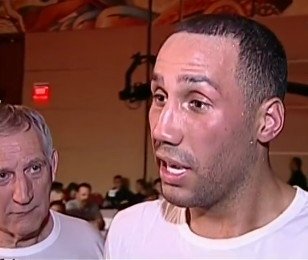 Super middleweight contender James DeGale (15-1, 10 KO's) defeated Sebastien Demers (31-6, 11 KO's) by a 2nd round TKO last night in Quebec, Canada. It wasn't surprising that DeGale defeated Demers so easily. After all, Demers came into the fight with three straight losses and two of them were early stoppage losses to Renan St. Juste and Brian Vera.
One of the defeats was to Allan Green, a fighter that was taken apart over and over again in the Super Six tournament. What was surprising is DeGale saying he'll be a world champion by the end of this year.
DeGale said "I will be a world champion by the end of this year."
DeGale's ranked #3 WBO, #5 WBC, #6 IBF, #14 WBA. It would seem like his best chance – and only – chance of winning a world title in 2013 would be against WBO super middleweight champion Robert Stieglitz. The problem there is Stieglitz has a rematch coming up against Arthur Abraham, and then the winner of that fight will likely have to face #1 WBO contender George Groves after that.
DeGale won't be able to jump in line and face the WBO champion. This means that if DeGale is going to get a title shot in 2013, it's going to have to be against one of the following fighters: Mikkel Kessler, Carl Froch, Andre Ward or the winner of the Sakio Bika vs. Marco Antonio Periban fight.
The only guy out of that bunch that I can see DeGale beating is Periban, but it may not matter because Periban will surely lose to Bika next month in their fight on June 22nd. I don't see DeGale as being good enough to beat Bika, no way. I also seriously doubt he'll get that fight because the Emeritus champion Andre Ward will likely look to face the Bika-Periban winner, and that'll leave DeGale without a chance.
If DeGale does get a title shot in 2013 it's going to be against the Froch-Kessler winner. I don't see DeGale being able to compete against either of those guys. They're so much better than what DeGale has shown since he turned pro, and I think those would be bad mismatches in both cases for DeGale.
I think DeGale's promoter needs to get him to lose some weight and then drop him down to middleweight so he can go after one of the weaker champions at that weight. He wouldn't stand a chance against WBA champion Gennady Golokvin, but he might be able to beat IBF champ Daniel Geale with any luck.
DeGale can also move up to light heavyweight and look to face the likes of Beibut Shumenov, Nathan Cleverly, Bernard Hopkins or Chad Dawson.
I picture DeGale losing to all of those guys except for possibly Shumenov, if he could get that fight. I might take DeGale a year or two, but I think he could eventually get a crack at Shumenov.