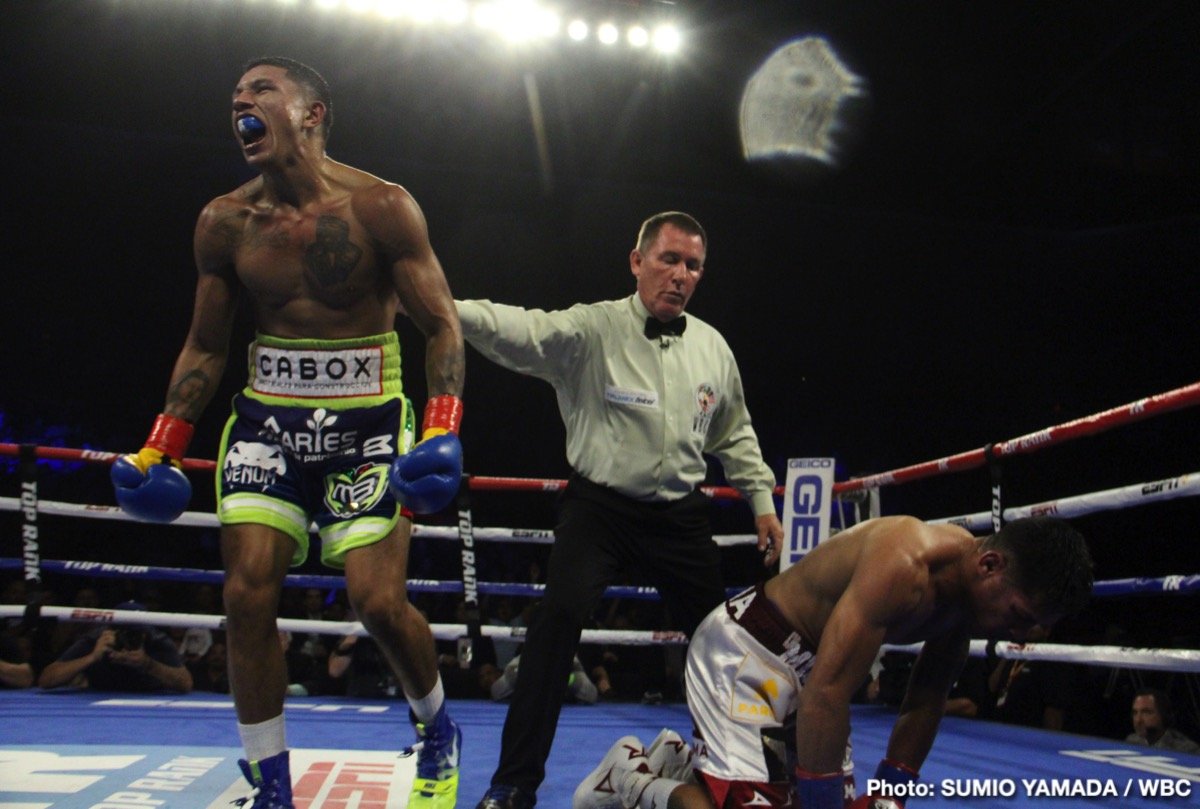 Going into last night's super-featherweight battle between defending WBC champ Miguel Berchelt and veteran challenger Miguel Roman, there was plenty of talk of it being a Fight Of The Year candidate. Maybe in the end the action became too one-sided for that, but the truly incredible effort 32 year old Roman gave surely deserves some type of award. Fighting beyond the call, the smaller, older man took a savage number of flush blows, to both head and body, yet he kept fighting back, or trying to.
Berchelt had his hands full in the early rounds, even being wobbled twice in the second-round as Roman landed with a right hand to the head and then a left hook. But Roman, who has had a tougher than tough career, with over 70 fights fought, was slowly but surely worn down. The end should perhaps have come in round-six, when Berchelt, now 35-1(31) sent his countryman crashing to the mat twice. Roman looked to be finished yet astonishingly he beat the count twice and made it back to his corner. Some fights would have been stopped at this stage, but this all-Mexican war was permitted to go on.
Awe-inspiringly, Roman, now 60-13(47) managed to fight back to the extent that he made viewers think a miracle turnaround was not totally out of the question. But it was too much to ask – way too much. Down again in the ninth, Roman, after again showing the kind of toughness no fight fan is likely to forget any time soon, was stopped on his feet as he was pinned on the ropes. There were just two-seconds left in the round. After what could be described as the most competitive one-sided fight of recent years, both the defending champ and the teak-tough challenger deserve immense praise.
But what next for Roman? What price might he pay for taking what he took, for doing what he did in the ring in El Paso? Retirement would not be a bad move for this warrior, one who, though he failed to become world champion, can hold his head up high with the best – or the toughest – of them. Berchelt is almost always in great fights and fans will be eager to see the WBC champ's next fight.
Berchelt won last night, but Roman won over the fans.