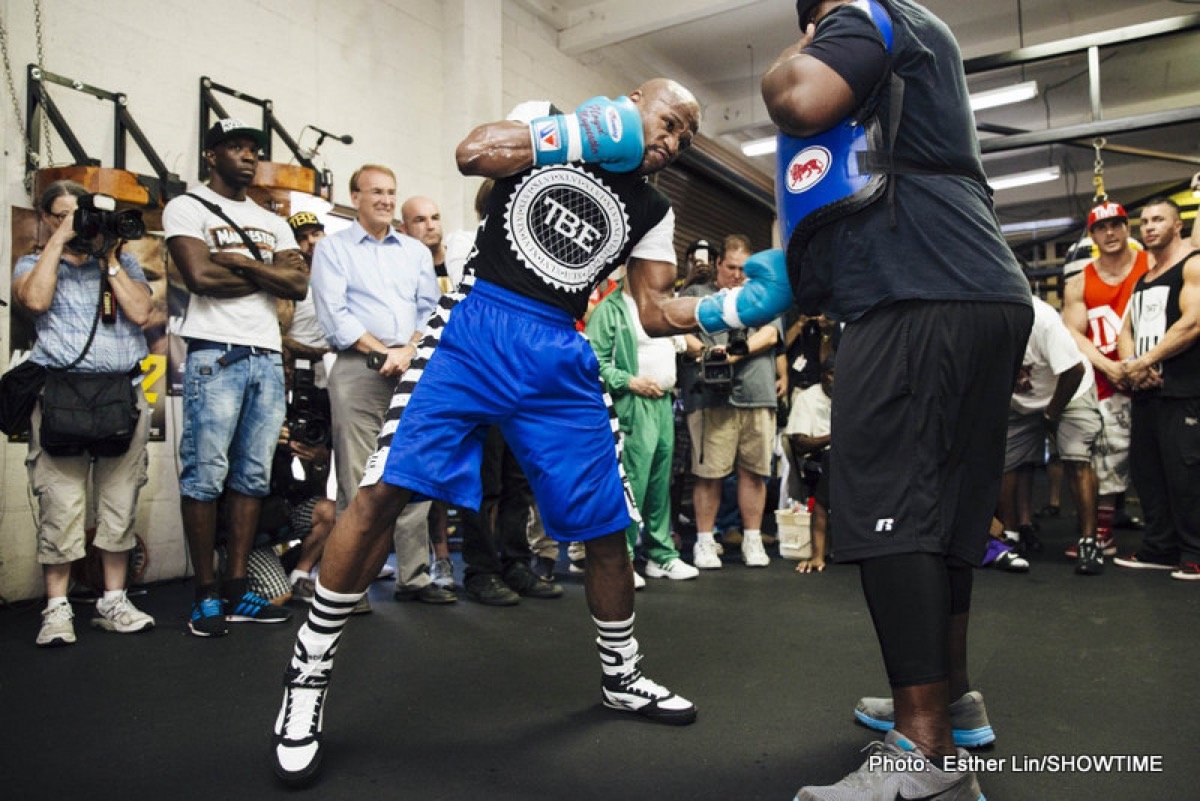 Going into his November 2006 welterweight title fight with Carlos Baldomir, pound-for-pound best Floyd Mayweather had stopped four of his last six foes and he had thrilled fans with some pretty brutal and wholly effective and accurate punching in fights against Arturo Gatti and Phillip N'dou. At this stage of his 36-0 career, Mayweather was not known as a "boring" fighter any more than he was known as a "safety-first" boxer. But this changed in the Baldomir fight. And soon after, certainly by the time of his 2009 fight with Juan Manuel Marquez, Floyd was known as a fighter who would not take a single risk, one who would never go for the KO.
Indeed, with so much to lose and with Floyd having no intention of ever losing, "Money/Pretty Boy" introduced his new, cautious style in a full-on manner in the Baldomir welterweight waltz.
Mayweather faced a tough Argentine warrior in Baldomir, the man who had shocked his buddy, Zab Judah, in a huge upset to take the 147 pound title in January of that year. 35-year-old Baldomir, 43-9-6, then followed the decision win with a stoppage victory over Gatti. It was these two wins that earned "Tata" the big-money Mayweather fight, and some good judges actually felt Baldomir might severely test Mayweather, maybe even become the first man to beat him.
It was not to be, and Floyd, boxing a near masterpiece that was lacking the punctuation mark of a stoppage, won every single round on two of the three official score-cards. The win of course led Mayweather to that huge fight with superstar Oscar De La Hoya and the boxing master became the biggest name in boxing – and the new pay-per-view king as far as pulling in massive numbers – with the much closer points victory he registered in May of 2007. But first came the Baldomir fight.
Entering the ring dressed as a gladiator (make of that what you will!) Mayweather did put on a show, for seven or eight rounds pleasing the fans with his speed, his accuracy and his zinging punches. But then, in a trend that would stick, the latter third of the fight saw a safety-first, cruise-control Mayweather opt to take zero chances in going for the stoppage, instead boxing carefully.
Mayweather, stung by the negative reception his new 'not get hit and hit a little' approach received, later claimed that he injured his hand at some stage in the fight; hence the lack of a KO. Not too many people seemed to believe him, but Mayweather made a second attempt to gain sympathy by bursting into tears as he spoke of his desire to call it quits and retire.
Instead of retiring, Mayweather mark-two, the "boring" and "safety-first" version stuck around, from then until last August, when he picked up hi most recent monster payday. But no longer would paying fans get to see Mayweather unleash the kind of beautifully placed hurtful and hurtful punches the kind he unloaded in his 2003 win over N'dou and his 2005 destruction of Gatti. That Floyd Mayweather had gone for good.