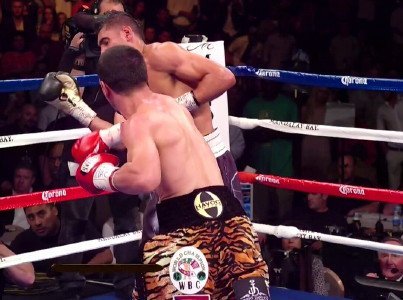 Jeff Mayweather thinks Amir Khan isn't a bad choice for Floyd Mayweather Jr. to fight on May 3rd in Las Vegas, Nevada. Jeff likes the idea of Mayweather fighting Khan because the British fighter brings in a lot of fans of his, and it's not a fight where Mayweather will be the only popular guy attracting pay-per-view buys on Showtime.
But with that said, Jeff thinks it could be a little tough on Mayweather to bring in a ton of PPV buys against a fighter like Khan with the fight taking place in the Mexican holiday Cinco de Mayo. Jeff feels that having Khan as Mayweather's opponent instead of a Mexican fighter will make it more difficult to bring in numbers on PPV.
"Amir Khan is a good choice because he has a good following, so that helps a little bit in the pay-per-view," Jeff said via MMamartialart. "But that's kind of tough to do a Pakistani on Cinco de Mayo, you know? For that to sell you got to add another set of veteran fighters on there or you'd have to stack the card with Maidana vs. Broner on the card as well."
Golden Boy Promotions has a lot of good fighters in their stable, so hopefully they can add the Adrien Broner vs. Marcos Maidana rematch, as well as a number of other good fights to try and boost interest in the Khan-Mayweather fight. Matching Khan up with Mayweather probably isn't the wisest move at this time because of Khan never having redeemed himself after a couple of defeats.
It's still not official that Mayweather will be fighting Khan so this is a little premature as of now to list him as his opponent on May 3rd. But if Khan is the guy that Mayweather fights, it's going to be very important for Golden Boy Promotions to stack the card with as many good fights as possible to bring in more buys on Cinco de Mayo.
Khan is probably not going to register as much for many fans on that holiday compared to someone like Marcos Maidana. But Mayweather likely sees the Khan fight as interesting due to what Khan had done with his career before getting beaten in back to back fights to Lamont Peterson and Danny Garcia.
Khan has nothing since then in beating Carlos Molina and a past his prime Julio Diaz. The timing for Mayweather to be fighting Khan is a tad bit off, because he's getting Khan when he's more or less going downhill with his career. Of course, that depends on if you see Khan's losses to Garcia and Peterson as either just a minor or a sign that he's slipped a notch.
I think some fans see Khan's best day as behind him now ever since the the Garcia loss. Khan hasn't done anything to prove that he's not slipped as a fighter, because he turned down the only decent opponent offered to him in Devon Alexander last December.