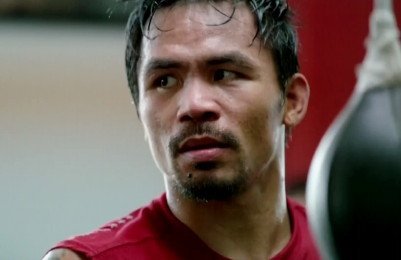 Manny Pacquiao's offer of fighting Floyd Mayweather Jr. with the purses from the fight going to charity was originally met with a lot of positive praise from boxing fans around the world. They saw Pacquiao's offer as a sign that he's truly a good person that doesn't care at all about money, and is only interested in helping out the sport of boxing by facing Mayweather for the fans. However, Floyd's uncle Jeff Mayweather sees through the intentions of Pacquiao and feels that his offer for a charity fight is just another sign of Pacquiao begging for the fight with Floyd Jr.
"How can anything go to charity when you [Pacquiao] owe the tax man $68 million?" Jeff said to Mmaartmartial. "All that was is a new of begging for the fight. That's all that was. Nobodies fighting for free…Now he's [Pacquiao] in a situation where he needs Floyd. Floyd doesn't need you. What does Floyd need your for? Nobody fights for free. That's just another way of begging."
As you can see, Jeff isn't too keen on the idea of Floyd Jr. accepting Pacquiao's seemingly altruistic offer of fighting for free with all the money being given to charity. Golden Boy Promotions CEO Richard Schaefer is in the same boat. He sees Pacquiao's offer of giving the money for his purse to charity as a way for Pacquiao to get a tax write off to reduce his taxes.
Jeff does think a fight between Mayweather Jr. and Pacquiao is possible in the future, but only if he leaves Top Rank and is no longer with Bob Arum. Jeff doesn't see there being any chance at all for Mayweather to say yes to a Pacquiao fight while he's still with Arum, which makes Pacquiao's recent offer to Mayweather for them to fight for free look so incredibly strange. Pacquiao knows by now that Mayweather won't agree to fight him while he's still with Arum, so why did he make that offer? Was it for Pacquiao to score political points with his constituents back at home in the Philippines or did he honestly believe that Mayweather would suddenly agree to this offer?