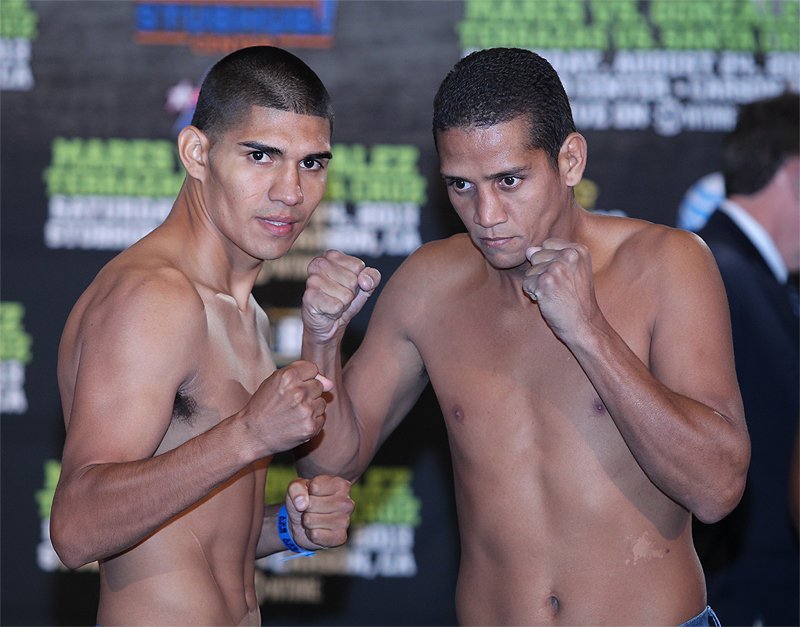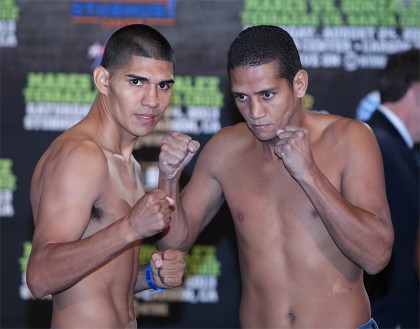 Last night in Indio, California in a fight that went out on Fox Sports, unbeaten welterweight talent Antonio Orozco scored a thrilling if short TKO win after being hurt badly in the opening round of a violent slugfest with fellow Mexican Miguel Angel Huerta.
Orozco, managed by Golden Boy and looked at by many as a future world champion, was cracked hard by a full-blooded left hook to the jaw in the opening session. The 26-year-old held the shot well, in doing so proving he has a chin, and then had to take another left hand. Orozco overcame the toughest moment of his now 19-bout pro career.
In the 2nd, 35-year-old veteran Huerta went for it but, in breathtaking fashion, Orozco completely turned the fight around with a blistering left hook of his own.
Felled by the shot to the jaw, with both feet lifted off the canvas, Huerta hit the mat face-first. Showing amazing toughness, the veteran got back up and, either unable or unwilling to hold on, tried to fight back. But the writing was on the wall, at least in the opinion of referee Pat Russell who, after seeing a bloodied Huerta take some more shots, decided to wave off the short and sweet, not to mention brutal and hugely entertaining, battle.
Orozco said post-fight that he wasn't going to lie and that yes he was hurt in the 1st-round. But the way the contender took a left hook the late, great Joe Frazier would have been proud of, and the way he then came back to end matters in style will only have earned Orozco more fans. A fast-handed puncher who just might be the next star at 147-pounds, Orozco last night left us wanting to see more.
Okay, maybe Orozco should never have been tagged the way he was by a man 9-years his senior, but again, it was the manner in which "Relentless," as Orozco is known, came back that impressed. Now 19-0(15), Orozco said he needs more than the two fights he had last year and it is to be hoped he gets what he wants and enjoys an active 2014.
On the pick of the under-card, gifted southpaw featherweight Julian Ramirez was impressive in turning back the upset-minded Derrick Wilson over eight lively rounds. Ramirez, an amateur standout, is now 10-0(6).