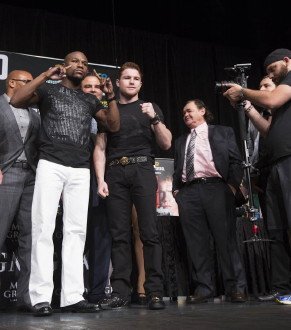 (Photo credit: Esther Lin/Showtime) Floyd Mayweather Jr. (44-0, 26 KO's) isn't shy about voicing his opinions about his opponent WBA/WBC junior middleweight champion Saul "Canelo" Alvarez (42-0-1, 30 KO's) having a resume filled with pretty much all fluff opponents with the exception of Austin Trout.
Mayweather Jr. thinks Canelo wouldn't have won one fight if all of his previous bouts had been against him instead of guys like Alfonso Gomez, Kermit Cintron and Matthew Hatton.
Mayweather said "He's [Canelo] 42-0, but he hasn't faced 42 Floyd Mayweathers because he'd be 0-42. I'm at the pinnacle. I'm the face of boxing and I'm dedicated to my craft."
I think Mayweather Jr. may be right. It's difficult to picture Canelo winning one fight if all of his fights were against Mayweather. There definitely is a lot of weak opposition that Golden Boy Promotions has matched Canelo up against for some reason.
It starts with Canelo fighting for the vacant WBC junior middleweight title against a welterweight Matthew Hatton. Why did Golden Boy match Canelo against a fringe welterweight contender like Matthew Hatton instead of the top junior middleweight contenders Erislandy Lara and Vanes Martirosyan who were eager to fight him at the time? That was an unusual move wouldn't you say.
You have to really throw away all of Canelo's past wins and just focus on his fight against Austin Trout in trying to figure out how Canelo will do against Mayweather this Saturday night. All of Canelo's other fights had come against weak opposition before the Trout fight, and Canelo did not shine against Trout. I thought Canelo fought well enough to lose.
At best, I give Canelo a draw in that fight because he just looked too tired, and was hanging out on the ropes for virtually the entire second half of the fight. After Canelo knocked Trout down in the 7th, it was Trout who dominated the rest of the round and the remainder of the fight.
What we can see from the Canelo-Trout fight is that Canelo has horrible stamina at junior middleweight nowadays. When Canelo first moved up to junior middleweight, he was a lot better, and capable of throwing lots of punches every round. But it looks like he's putting on weight and it might be taking a lot out of him having to drain down from the 170s to make 154. It might be time for Canelo to move up to middleweight so that he can fight hard for 3 minutes of every round like he used to be able to do.