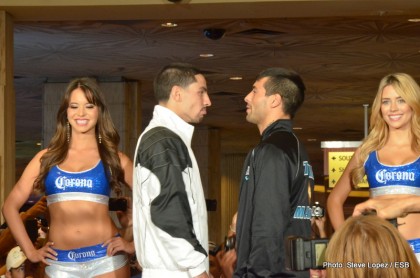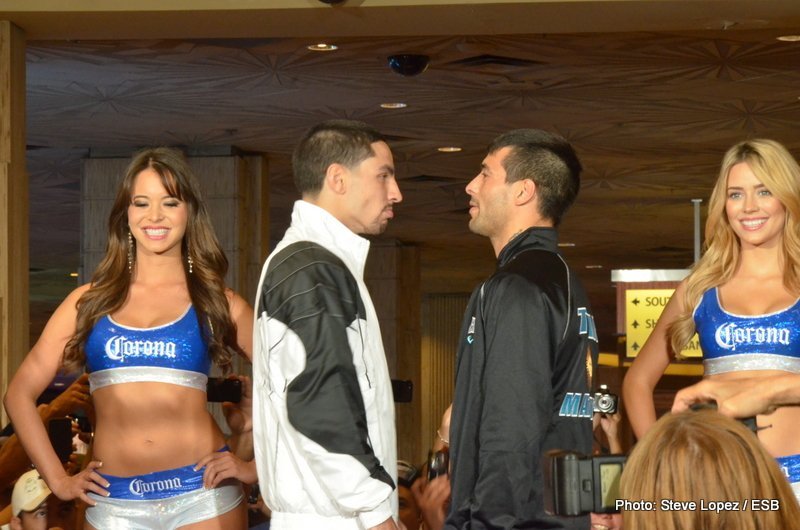 This Saturday live from the MGM Grand Garden Arena hardcore boxing fans will finally get a chance to have their cake and eat it too. The co-feature matchup between Lucas "The Machine" Mathysse and Danny "Swift" Garcia is the best PPV undercard fight in recent history.
We already know style's make fights. Neither combatants style is pretty but rest assure this potential bloodbath will have plenty of substance.
Credit is well deserved to everyone responsible for making this 50-50 fight a reality. The stakes are very high at the 140 pound weight class and beyond. The winner in all probability will be "The One" who gets a fight with Floyd Mayweather in either May or September of 2014.
Every since this fight has been made and even months before there has been a tide of support for "The Machine" from Argentina.
Mathysse's string of knockouts, now at 6 in a row after dispatching Lamont Peterson in 3 rounds, created hype behind Lucas that has hit a fever pitch among media members and boxingheads all over the world.
To be fair, any fighter with real power who is near or at the top level of a division will always gain support at a rapid pace.
Perfect example, the high speed loc-a-motive that is Gennady Golovkin, who after 3 fights on HBO has been labeled as the best middleweight without facing the best the division, has to offer.
Lucas also has the people's champ moniker attached to him from his controversial spilt decision losses to former lineal champion Zab Judah and current IBF champion Devon Alexander. Add in the fact that Danny Garcia has a lot of hate against him in large part due to his trainer and father Angel Garcia, and you can see why Matthysse is the favorite heading into Saturday's scrap.
The chin is as good of place as any to start when assessing which fighter has the best chance to be victorious and hold up under what should be extreme punishment for however long this fight last?
That's a tricky question to ask.
Both men fought Zab Judah and although he has a different fighting style, there is some things that can be compared in the two fights.
In my estimation Danny Garcia won more rounds from Zab maybe 8 or 9, were as the Matthysse and Zab Judah fight was much closer on a round by round basis. I had it 6-6 with Lucas scoring a knockdown and landing more telling punches helping him eke out a victory on my scorecard.
Danny on the other hand controlled larger portions of his fight against Zab with biggest difference being Garcia getting buzzed and hurt late in the fight. Does Matthysse taking the punches better from Zab mean that he has a better chin?
Garcia being affected more by Judah's punches may not tell the whole with a closer look. Judah was hurt much earlier in his fight with Garcia. The logic that Danny was throwing caution to the wind earlier and often could be the reason why he was caught with his chin in the open air thus increasing his chance of getting it exposed.
Up until the late rounds Danny stood up to Zab's punches just fine, enjoying plenty of success when the two exchanged blows.
Other chin tests for Danny were his fights with Amir Khan and Kendall Holt. Both opponents had a solid blend of speed and skill to go along with power.
Holt has more of the one punch kind of power with speed. Khan's lack of defense gets him in trouble. Be that as it may he still has underrated power and the speed he displays in combinations behind an accurate jab is arguably second to none offensively speaking.
Holt check Danny's chin to no avail. He quickly caught up to his speed and never looked back winning by comfortable margin.
Amir threw everything at Danny including the kitchen sink in the 1st 3 rounds of their fight. He was bruised and bloodied yet showed the whiskers to not only take the punch but make minor adjustments that paid dividends during Khan's brutal yet short lived onslaught.
The Garcia camp has talked about changing a bit showing their skills on the inside and the outside. Also wanting to find out how Matthysse react when he's backed up.
The change could be very subtle. He may be on the move more than we have seen in the past trying to be more cautious of Matthysse's power. Can Danny dust off some of those "swift" skills he used to have a stellar amateur career that earned him a spot as an alternative for U.S. Olympic Team. Boxing smart instead brawling for a full 12 rounds could be the difference and usually is when two powerful punchers face each other in the ring.
These fighters skills are very underrated if your only focusing on their knockout abilities. Both can do some things that impress me in the middle of the ring.
Neither will be confused with Pernell Whitaker yet show some skill in avoiding punches at times. Lucas has a tighter guard and improving head movement on the way inside.
Danny picks off shots with his gloves and takes a step back or to the side using distance and timing in the middle of the ring.
In that same breath they get hit, often engaging in wars due to their aggressive style which leads to exchanges were both have found success.
I can't wait for the first of many left hook exchanges that may be a key battle to win the war.
Neither seemed fazed much with the hype and are very mentally strong willed. In fact they normally are the first to fire back after what looks to be a brutal exchange.
Danny did that in his fights with Amir Khan and Zab Judah.
And who can forget the explosion that went off when left hooks were thrown at the same time in the Matthssye and Peterson fight. From the television audience angle it seemed like Lamont had landed a punishing shot on the machine. What the angle didn't show us was Matthysse's hook was tighter and shorter, causing Peterson to fall straight backwards with no control of his body functions when hit the canvas. I still wonder how Lamont Peterson summoned the strength to beat the count.
The similarities in each don't stop with the left hook being their Sunday punch. For all the power and skill both can get sloppy and wildly wide with the right hand. In this fight that may be a fatal mistake if either is caught reaching on offense, inviting the other to land a punch that could change the round if not the whole fight.
Both use a stiff jab but thrive on setting up the left hook and overhand rights to the head by using murderous accurate body punches.
"The Machine" may have a slight edge in power having put every opponent on the ground thus far. Also not having to land clean on the jaw yet still managing to hurt or buzz some sturdy champions.
The chin and who can tuck it will be the most important on element.
I wouldn't be surprised to see each of these warriors buzzed, hurt, and kissing the canvas. Taking a knee could be a strategy used to make it through a round only to clear the cobwebs and take back control of the action later.
If Danny does employ outside stick and move tactics I see it working for a while but ultimately being out of character for his strengths. The moment he gets caught with something big he will go back to the style that got him this far.
Plus Lucas has already shown the ability to cut of the ring versus the likes of Devon Alexander and Zab Judah who are quicker and more talented on the defensive end.
My official prediction is going to be outside the box from the many media and fans who are picking Matthysse by early to mid KO. Being fully aware of the weaponry that these fighters pack in a punch there chins and mental toughness will allow them to last into the championship rounds.
This scribe is going with Lucas Matthysse by Majority or Spilt Decision. I will add that I would take a long look at the over in 8.5-9 rounds, and will be putting money on the extremely live underdog Danny Garcia, who depending on what site or casino you look at has him a 2-1 to 3.5-1. Hedging or just straight up Lucas by KO might be a good bet as well.
I personally cannot wait to see who wins more battles in a war filled with edge of your seat moments when Matthysse and Garcia exchange blows!
Written by Chris Carlson Owner and Host of Rope A Dope Radio at www.blogtalkradio.com/ropeadoperadio
Follow on Twitter @RopeADopeRadio
YouTube Channel "The Rope A Dope Report" Subscribe at http://www.youtube.com/user/kg21carlito
Visit http://ropeadoperadio.wordpress.com/