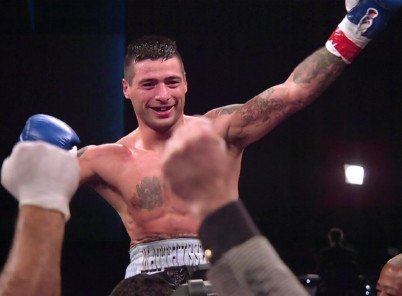 WBC interim light welterweight champion Lucas Matthysse is really hoping that WBA/WBC light welterweight champion Danny Garcia will step up to the plate on September 7th and agree to fight him. However, Matthysse is concerned that Garcia might not agree to the fight because he looked worried last Saturday night after Matthysse dispatched Lamont Peterson in three rounds at the Boardwalk Hall in Atlantic City, New Jersey.
If Garcia decides it's too dangerous a fight for him then Matthysse says he's open to moving up in weight to fight Floyd Mayweather Jr. or Saul "Canelo" Alvarez if either of them are interested in the fight.
Matthysse said this in an interview with RingTV "I think he [Danny Garcia] looked a little worried, and I pointed at him and told him that I'm coming for you next. If he's a great champion, if he's a good fighter, he's going to want to take that fight…Yes, hopefully I get offered that fight [Mayweather], and I'll be willing to move up to 147, and yeah, I'll fight Canelo."
These are potentially good fights in September or early next year if Danny Garcia doesn't want to face Matthysse. If he does then the winner of that fight can face either Mayweather or Canelo in early next year depending on their schedules.
Mayweather would be the idea guy for Matthysse to fight because he would no doubt say yes to a fight against him and it would be a fight that makes a lot more money than a Canelo vs. Matthysse fight. Canelo doesn't have the following yet for Matthysse to make big cash fighting him on pay per view. Mayweather is still the king in that department and he'll no doubt remain the tops in that area until he finishes out his current contract with Showtime/CBS.
Matthysse is optimistic that Garcia will say yes to the fight. He says that he gave him a signal after the fight last Saturday night that he would be willing to face him. Let's see if this turns out to be the case.