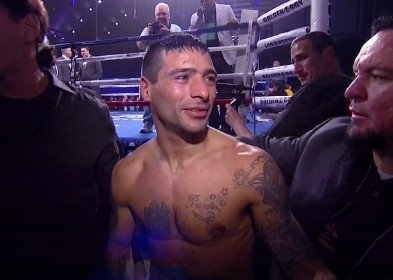 Mason N. (Bronx, NYC): I never saw the Matthysse victory over Peterson coming the way it did! Your Facebook post was almost spot on! What did you see coming into the fight that Peterson and a few of us didn't?
Vivek W.: Although I predicted a Matthysse victory via split decision, the main premise of my argument that supported him winning was the fact that I don't think we ever quite knew what we had in Peterson. We saw him gut out a few tough victories, but we also saw him buzzed quite a bit, and actually dropped 3 times in the past. One of those knockdowns came at the hands Timothy Bradley who has never been known as a hard puncher, highlighted in his abysmal 11 knockouts in 30 pro fights. When we look at the core of those knockdowns and those near knockdowns, each and every time they came as a result of his reckless penchant for staying in the pocket and trying to bang.
That stuff is great and without doubt it puts cheeks-in-seats, but at the end of the day, our strengths are our strengths, and our weaknesses are our weaknesses. I just never felt it was a great option for implementation within his gameplan, and this fight was the culmination of that. He has very good boxing skills and made Matthysse miss quite a bit in the first round. When his discipline weakened, so did his shot at victory. I felt from day one that the longer the fight went on, the better his chances. In the final analysis, this point became judge, jury, and executioner, as nothing else was more pronounced in the end.
Several fight fans looked at his victory against Holt and felt he had some "chip on his shoulder" and wouldn't be denied. I think that night against Holt he did, but then again, to be very honest about it, who is Kendall Holt? At one point he was a very credible name. At this stage, as much as I liked him, he simply isn't who he was. Peterson's victory over Holt was more about what Holt wasn't than who Peterson was. The great "Iron" Mike Tyson once said "everyone has a plan until they get hit"! Peterson's plan was only as good as his penchant to frequently abandon it. And after he got hit, his plan was no more! I don't think I saw anything the average fight fan didn't see. I simply took the emotions out of my decision when I predicted the more steady and consistent fighter would defeat the bigger name.
Eric R. (Cincinnati, OH): I'm a huge Adrien Broner fan so I have to present this question. He went to 147 because that's where the money fights are. If Matthysse follows him after defeating Garcia, (which I'm sure he will easily do), who do you see winning if the two square off?
Vivek W. Honestly, as I think about it, there are a ton of fights to be made at 140lbs, but whether it's at '40 or '47, the biggest welterweight fight to be made at this stage NOT including the name Mayweather is a showdown between these two. May not have the most money attached to it; but if fight fans want to see who the next true elite will be……or who that proverbial "creme" of the crop to rise to the top will be…..I think these two men represent that group. Matthysse has finally gotten his results to catchup to his ability. In the case of Broner, you have a major hype machine, but also, one very capable of performing under the bright lights.
I really think this would be a helluva war. As much as I like what I see in Matthysse, those who have followed my work over the years know that I've always quickly cautioned fans for swingin' on that proverbial pendulum, shouting out name after name according to who shocks the sport the most week in and week out. I love what I see in Matthysse, but Broner is clearly the more skilled guy. Broner brings a highly underrated pedigree. And that pedigree is often misplaced in the midst of the hype surrounding him.
I think without a doubt this is a fight Broner can win, but my biggest concern is that he – like Peterson – has a penchant to bang in the pocket. For Peterson, this was an absolute detriment. But Broner is no Peterson. My biggest question is can Broner handle the pop in Matthysse's hands? If he can, I like Broner all day long in this fight. One element Matthysse will have to worry about that Peterson wasn't around long enough to force him to answer to is body work. Broner can be a ferocious body puncher when he dedicates himself to it. And he's without doubt one of the divisions better counter punchers. I just think this fight has so many different angles to consider.
At the end of the day, I think both men will continue to win and stride towards an absolute collision course. My money says we get this fight somewhere between now and next Summer. I won't attempt to pick a winner without breaking down more fight footage, but I'll tell you this much: Us fight fans can't lose when it comes to any of these potential fights between 140 and 147. Judah/Peterson…..Garcia/Matthysse, Matthysse/Broner…..Broner/Garcia…..Peterson/Broner…..the list goes on…..so in fitting fashion…..I say BRING 'EM ON!!!!
Freddy N. (Queens, NYC): There's been a little buzz about Peterson possibly taking on Zab Judah. If that fight took place who do you see winning in the end?
Vivek W.: Great litmus test for both men. Clearly Peterson has youth on his side, but Judah has proven that in many ways, his heart has caught up to him with age. Aside from that, I've often spoken about how Judah plays the role of that proverbial cat with 9 lives…..and how he typically finds a way to win those fights where he enters on the bubble. Despite a decent performance against Garcia, that loss means he now resides on that bubble yet again. Peterson could be the perfect, tailor-made litmus test to allow him to squeeze back into contention….as I could definitely see him squeaking out a close decision and finding his way back up to the big leagues!
I don't know who wins this fight if it happens. I think both men are clearly capable. Peterson proved to us that he can enter with a chip on his shoulder and slap the ball out of the park as well. I don't know if we ever see this fight, but considering the recent setbacks in the career of both men and their penchants for stepping up when some think it's time they step off, I think there's never been a better time to make it happen! Hopefully we get to see it. And hopefully both guys can find a way back to the top! Stay tuned!
(Vivek "Vito" Wallace can be heard tonight on "Left-Hook Lounge Radio" at 9ET/6PT. He can also be reached at 954.300.5692, Twitter (@vivekwallace747), Instagram (ViveksView), and FaceBook).