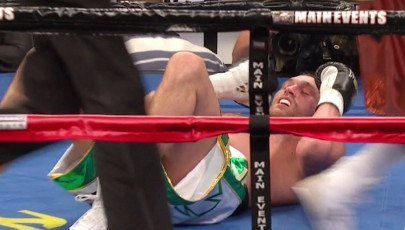 Heavyweight contender Tyson Fury (21-0, 15 KO's) has ignored American heavyweight contender Deontay "Bronze Bomber" Wilder's attempts to get him in the ring despite it being a fight that would help Fury in a huge way if he won. However, Fury now is saying that he'll agree to fight Deontay if he beats Kevin "Kingpin" Johnson (29-3-1, 15 KO's), a guy that Fury easily beat by a 12 round unanimous decision last December.
Fury said on his social media site: "At Bronzebomber [Deontay Wilder], if you can beat Kevin 'Kingpin' Johnson, I'll definitely give you your fight with me!!!! What do you say? I know Kevin will fight."
I don't think for a second that Fury, #5 WBO, #6 WBC, #8 IBF, would hold up his end of the bargain if Deontay did take the fight with Johnson and knock him out. Without it being written in a contract, Fury could then just ignore Wilder like before and continue to fight other guys.
Fury looked awful in his last fight against Steve Cunningham in getting dropped in the 2nd round. Fury did win the fight by a 7th round TKO, but he was hurt by Cunningham at twice in the fight.
Wilder, 6'7", would be a nightmare for Kevin Johnson at this point in his career or any point in his career for that matter. Johnson gassed out against Fury after three rounds and spent the rest of the fight looking to land an occasional shot thrown without much power. He'd be in big trouble against #9 WBA, Wilder. It would be a fight where Johnson would likely retreat to the ropes like he did in his failed title shot against WBC heavyweight champion Vitali Klitschko in December 2009.
Johnson basically played the rope-a-dope the entire 12 rounds, but without throwing anything more than jabs off the ropes. He would lean way back to keep Vitali from landing his right hands, and it was a difficult fight to watch because of how little effort Johnson put into it in terms of trying to win the fight.
If he fought that way against Deontay, Johnson would get massacred because Deontay's reach is longer than Vitali's and he's a much quicker with his hands. He would have no problems tagging Johnson with right hands no matter how far he leaned over the ropes to keep from getting hit.
I get the sense that Fury doesn't like the idea of tangling with the equally big Deontay Wilder for fear of ending up just like Audley Harrison did in getting obliterated in one round by Deontay. Fury's slow and he lacks power, which means he would have to be able to stand in there with Wilder for 12 rounds if he wanted to beat him. Can Fury take Wilder's big right hands for 12 rounds without getting knocked out? I don't think so. I think would get to Fury sooner or later and likely sooner.