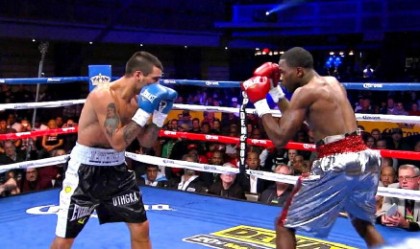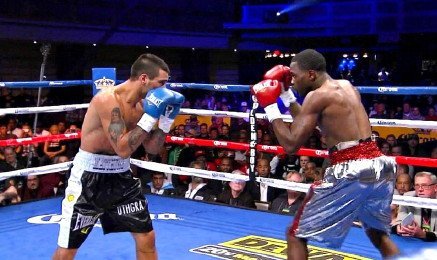 By Bill Phanco: It took WBC interim light welterweight champion Lucas Matthysse (33-2, 31 KO's) most of the 1st round to adjust to the hand speed of Mike Dallas Jr. (19-3-1, 8 KO's) tonight but once he did, he tagged him with a monstrous overhand right late in the round that knocked Dallas Jr. clean out, sending him down face first on the canvas at the Hard Rock Hotel & Casino in Las Vegas, Nevada. The referee immediately stopped the fight after realizing that Dallas Jr. was out cold and wasn't moving a muscle. The official stoppage was at 2:26 of the round.
Dallas Jr. was jabbing well in the early part of the fight, and tying Matthysse up each time he could get in close to land his power punches. However, as the round wore on, Matthysse began to catch Dallas Jr. with hard left hooks to the head and big right hands. You could see with the power that Matthysse was throwing his shots that Dallas Jr. wasn't going to last very long in this fight.
Matthysse's power was pretty impressive in this fight because he wasn't just punching big power with his left hand. He was also throwing with good power with his right as well, and there aren't too many fighters at 140 that would have been able to last long tonight against him. Matthysse looks every bit as powerful as WBA/WBC light welterweight champion Danny Garcia with his left hand, but he's got an arguably better right hand and definitely better hand speed.
PHOTO CREDIT: NAOKI FUKUDA
***
The one promising career of Selcuy Adydin (23-2, 17 KO's) took another hit tonight with him losing by a 10 round majority decision to Jesus Soto-Karass (27-8-3, 17 KO's). The final judges scores were 97-93, 97-93 and 95-95. It's hard to understand what the the judge that scored it 95-95 saw that made him score it a draw because it seemed like a clear victory for Soto-Karass. He threw almost twice as many punches as Aydin in the fight, and was constantly out-landing him and backing him up throughout the fight.
Aydin only has himself to blame for the loss considering he was mostly just throwing single pot shots instead of combinations, and he was getting badly outworked. For some reason Aydin spent much of the night fighting on the outside against the much taller and longer-armed Soto-Karass. This made it really real easy for Soto-Karass to bomb on the outside and walk him down to work his body over. It was like watching a weaker version of Antonio Margarito stalking an opponent and overwhelming them with punches. Aydin simply couldn't keep with the high work rate for Soto-Karass and he really never got into the fight.
You have to wonder whose idea it was on Aydin's team for him to fight Soto-Karass following Aydin's loss to Robert Guerrero last year. Soto-Karass is a lot like Guerrero with his fighting style, and he was able to basically do exactly what Guerrero did, but he did a better job than Guerrero.
***
Other boxing results on the card:
Jermell Charlo TKO 8 Harry Joe Yorgey
Chad Bennett KO 3 Ben Ankrah
Jermall Charlo RTD 5 Josh Williams
Will Sands draw 4 Herb Begay
Julian Williams TKO 7 Jeremiah Wiggins
Francisco Vargas TKO 2 Ira Terry
Errol Spence TLO 1 Nathan Butcher