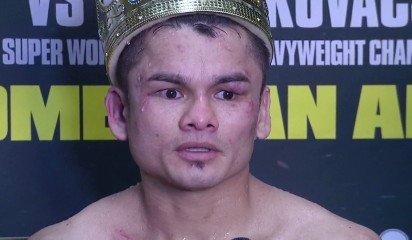 It looks like Golden Boy Promotions CEO Richard Schaefer may have spoke too soon by assuming that WBA welterweight champion Marcos Maidana (35-3, 31 KO's) would follow along in march step by willingly agree to give Golden Boy's highly popular Adrien Broner (27-1, 22 KO's) a rematch next April just because Broner exercised his rematch clause.
Maidana's not willing to just give up his chance of getting a much better fight against Floyd Mayweather Jr. – or someone else – just because Schaefer said that the Broner-Maidana fight will happen in April. Maidana doesn't want to narrow his possibilities by saying yes to that fight and missing out on something much bigger like Mayweather.
WE DON'T HAVE ANYTHING CONFIRMED FOR NEXT FIGHT. NOT A RIVAL, NOT A DATE. NOW IT'S RESTING TIME AND EVALUATION OF BEST OPTIONS.

— Marcos René Maidana (@ChinoMaidana) January 11, 2014
This is smart of Maidana not to just give in and give Broner an undeserving rematch. If Maidana can get a unification bout or a fight against Mayweather, then Broner is just going to have to sit and cool his heels and wait. It's not as if Golden Boy can't find an opponent for Broner to fight in order to stay busy. He can always fight on the undercard of Mayweather's next fight on May 3rd against Lucas Matthysse or maybe Devon Alexander. It's doubtful that Broner can beat either of those guys, but at least if he fought them and was beaten then he would realize that he's not cut out to fight at 140 or 147. In that case, the sooner that Broner moves back down to 135 the better it would be for him.
If he doesn't have the talent to fight at light welterweight and welterweight, Broner needs to find out soon before he messes up his metabolism by fighting at those weight classes too long to the point where he can't go back down to 135 even if he tried. Before the Maidana fight, Broner looked like he's eaten his way to the middleweight division. He was sporting a pot belly before he started training camp, and it must have been difficult to take off all that weight. It won't be easier as he gets older, and that's why it would be better for Broner to find out if he has a place at 147 or 140 as soon as he can so he can make a decision to go back down to 135 or not.