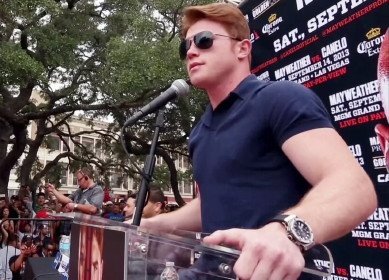 While many boxing fans are openly grumbling about the March 8th Showtime card headlined by Saul "Canelo" Alvarez (42-1-1, 30 KO's) vs. Alfredo Angulo (22-3, 18 KO's) being on Showtime pay-per-view given that both guys are coming off of losses, Golden Boy Promotions CEO Richard Schaefer isn't worried at all that the fight will bring in poor PPV numbers.
Schaefer thinks it'll do okay because of the 23-year-old Canelo's huge popularity in the United States following his one-sided loss to Floyd Mayweather Jr. last September in a fight that really well at the gate and on PPV.
"Canelo is a huge star, so going on pay-per-view was not an issue," Schaefer said to ESPN. "You see it when he goes somewhere in Los Angeles or Mexico. He has that charisma where people are drawn to him. I saw that in San Antonio in December when he came to the Marcos Maidana-Adrien Broner card. The ovation he got was crazy. People embrace him. The fans go nuts."
Just because Canelo has a lot of fans that's not much of an excuse from Schaefer for why he's asking boxing fans to pay to see what pretty much spells out to be a little more than a mismatch on paper. Angulo is a slow fighter who took a terrible beating in his last fight against Erislandy Lara in which he suffered an orbital bone injury to his left eye. This isn't Miguel Cotto vs. Antonio Margarito II. Angulo has never won a world title before, and he's beaten beaten by James Kirkland and Kermit Cintron, in addition to Lara. When you have a fighter like Angulo who is coming off of a loss and who isn't a top 5 contender, you don't want to make a fight with him a PPV fight.
Schaefer's obviously going to do it, but it's not a great fight and it's disappointing that they're asking fans to pay to see fights like this. With it being Canelo's first PPV card in which he's the main guy, it gets him off on the wrong foot with fans. If this is the kinds of fights fans will be seeing from Canelo in the future then it's a sad statement for boxing, if fans are going to be asked to pay to see Canelo's mismatches.
Canelo was easily beaten by Floyd Mayweather Jr. last September. Canelo looked terrible in that fight. He also looked really bad in his win over Austin Trout last year in April in a fight in which the three judges scores didn't match the actual that took place in the ring that night. Canelo appeared to barely win the fight, yet two of the judge scored it 118-109 and 116-111 for Canelo.