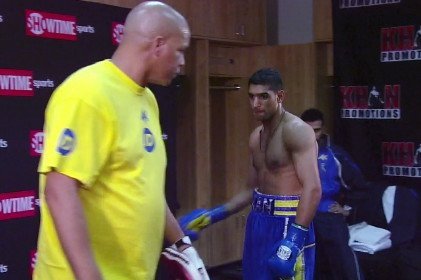 Roy Jones Jr. believes that the tall 5'10" Amir Khan will give Floyd Mayweather Jr. a lot of problems if he's the one that ends up facing him in his next fight on My 3rd. Jones Jr. thinks that Khan has the boxing skills and the speed to trouble Mayweather if he avoids trying to slug it out. Jones Jr. thinks Khan is a very good fighter when he's focusing just on boxing his opponents.
Where he gets into trouble is when he goes out looking to punch. Jones Jr. thinks if Khan comes out with the right game plan to just box with Mayweather then the fight will be a tough one for Mayweather.
"As a boxer, Amir Khan will give anyone problems. And if he gets his old self back and boxes, he could make it interesting," Jones Jr. said to Hustleboss. "As a boxer he's tall and rangy enough to make it hard for Floyd to get to him. Floyd's a better boxer of course and probably has better power. But the kid has a big heart, and this kid will make it very interesting if he comes with the right training method. He's one of these guys that can make it interesting because of his style and because of his height."
Trying to keep Khan from slugging may prove to be impossible because he instinctively looks to pay his opponents back when he gets hit with a good shot, and that makes him vulnerable to a good fighter like Mayweather. Khan will get hit a lot by Mayweather, and if his reaction is to rush forward trying to pay Mayweather back then this could be over very quickly.
Jones Jr. probably forgot about that part of Khan's game. Khan's former trainer Freddie Roach worked with him to try and keep him from wanting to retaliate each time he was hit with a good shot, but he was unable to succeed. Khan remained stubborn and unyielding in that part of his game, and that's likely one of the reasons why he couldn't get to the next level.
Mayweather is someone that will wait on you if he notices that his opponent responds with anger after getting hit. Mayweather will nail Khan with a shot and then tag him as he rushes forward to throw his usual flurries. With Khan, he's easy to predict in what he does in the ring. Yes, his hand speed is good, he moves well, and he's got a nice jab. But he always attacks after he gets nailed with something, and he won't last long against Mayweather if he tried to retaliate each time he gets hit with something.