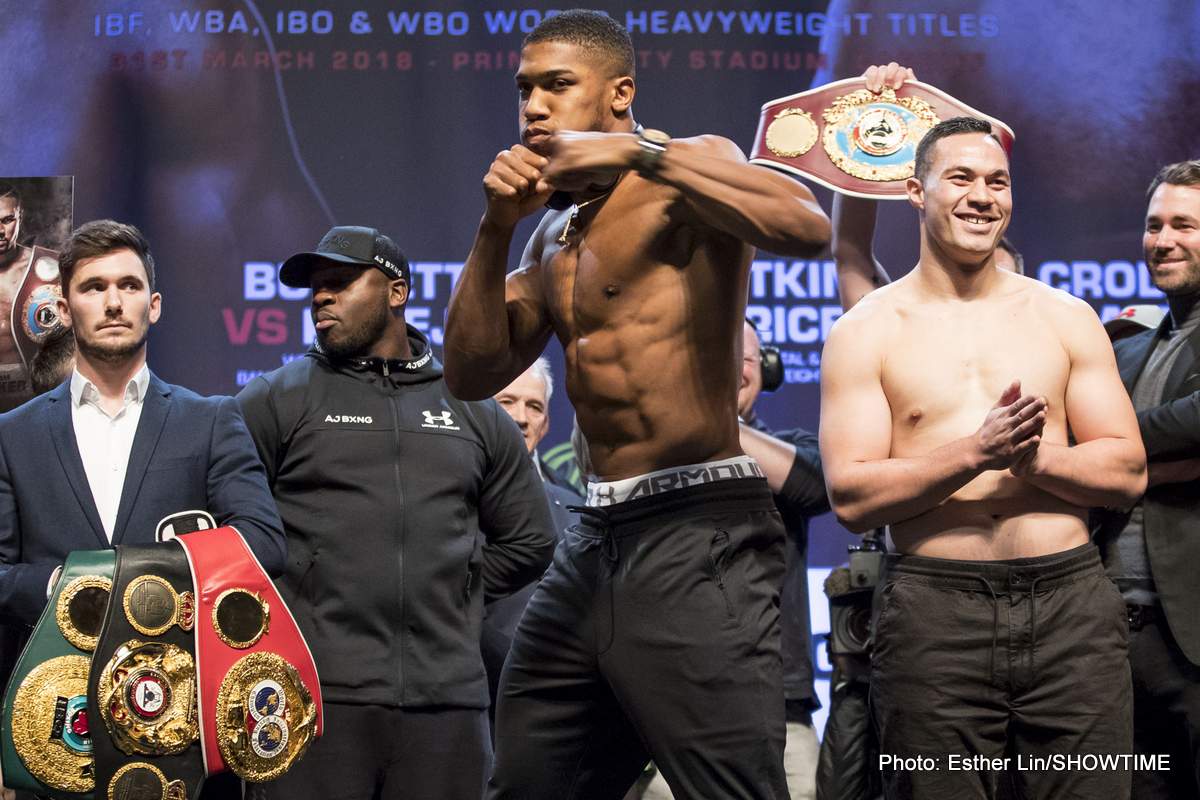 The last undisputed heavyweight champion of the world has spoken. Lennox Lewis, speaking with Jeff Powell For MailOnline, says that it is Anthony Joshua, along his promoter Eddie Hearn who does not want the big fight with Deontay Wilder. Lewis, who urged to Joshua how he must "take charge of your own destiny," said the WBA/IBF/WBO ruler must "take over from the promoter as the boss."
Lewis, who got all the big fights he wanted apart from the unification bout with Riddick Bowe, says that in the case of that fight, he ordered his manager Frank Maloney to make the fight at all costs, and that when Bowe refused, he had to vacate his WBC belt (which Bowe famously dumped into a garbage bin).
Lewis says Wilder most definitely wants the fight with Joshua, "more than any fight."
"I was with Wilder in Washington this week and it is clear Joshua doesn't want the fight," Lewis said. "He explained to me all the problems he is having with Anthony and Eddie, of how AJ is listening to Hearn. Deontay most definitely wants this fight more than any fight. [Riddick] Bowe did everything he could to avoid fighting me but I forced the situation. I did so by ordering my manager Frank Maloney to go out and do whatever it took to make the fight. Yes or yes. No arguments. Then Riddick had to meet me or vacate. Oscar De La Hoya and me were the first to take charge of our business. I took control of my destiny and opened up my chance for greatness. Anthony needs to do the same with Eddie."
It's likely Joshua will not like hearing this, if he does indeed hear or read what Lennox has said. But could it be there is a changing of opinion with regards to just who has been the culprit in the failure to make the big Wilder-Joshua fight? Initially it seems fans sided with Joshua, but now, more and more fans seem to feel that is indeed AJ and Hearn who are less enthused to take the big fight than Wilder is.
We cannot allow this monster of a fight to go the way of Lewis-Bowe: into the bin. Maybe Lewis is right and it's as simple as Joshua ordering Hearn to do all he can to make the fight – that's if Joshua really and truly does want it of course. Hearn has said many times that Joshua is "the boss." Lewis clearly feels Joshua should start acting like it.