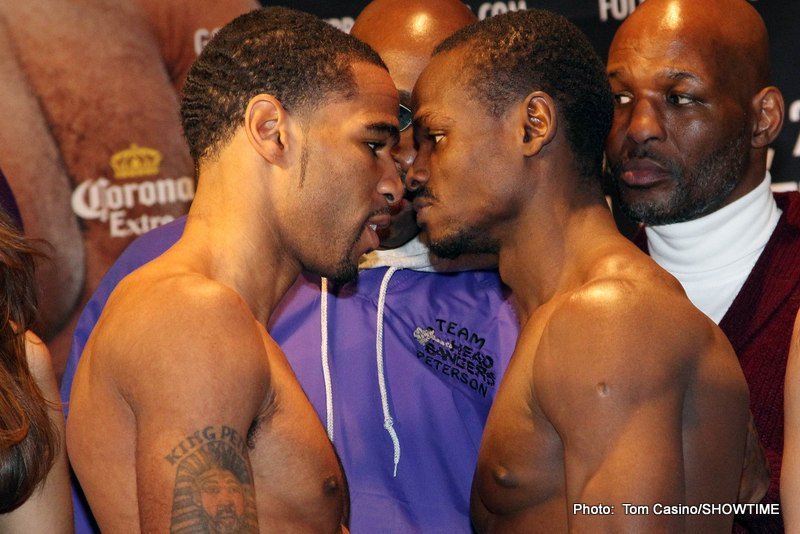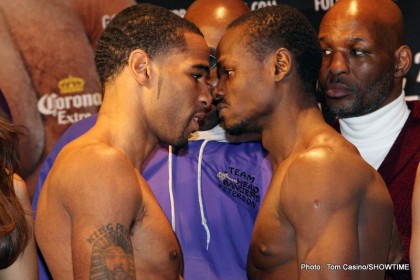 By Paul "Paparazzi" Jones & Justin Jones: Washington, DC — Official weigh-ins for the "Lamont Peterson vs. Dierry Jean" IBF Junior Welterweight World Championship clash were held this afternoon at the Marriott Renaissance hotel (Washington, DC).
Lamont Peterson (31-2-1, 16 KOs), who celebrates his 30th birthday today, weighed in at 139.5 lbs which was under the contracted 140-pound limit. Dierry Jean (25-0, 17 KOs) also made weight tipping the scales at 139 lbs.
Jermell "Iron Man" Charlo (22-0, 11 KOs) and "King" Gabriel Rosado (21-7, 13 KOs, 1 NC) made the Jr. Middleweight 154-pound limit without incidence. Charlo weighed in at 153 lbs, while Rosado weighed 154 lbs.
Comprehensive weigh-in results for the televised portion of the card appear below:
SHOWTIME® Championship Boxing Main Event (12 rounds) and Co-Main Event (10 rounds):
Jr. Welterweights: IBF World Champion Lamont Peterson (139.5 lbs.) vs. Dierry Jean (139 lbs.)
Super Welterweights: Jermell Charlo (153 lbs.) vs. Gabriel Rosado (154 lbs.) for the
SHOWTIME EXTREME® Preliminary bouts (7 p.m. ET/PT; delayed on the West Coast):
Middleweights: Dominic Wade (13-0, 10 KOs) (163 lbs.) vs. Dashon Johnson (15-13-3, 5 KOs) (163.4 lbs.) in a 6/8 round bout.
Bantamweights: Rau'Shee Warren (17-0, 3 KOs) (118.4 lbs.) vs. German Meraz (33-26-1, 20 KOs) (119 lbs.) in an eight round bout.
Lightweights: Robert Easter, Jr. (8-0, 8 KOs) (134 lbs.) vs. Daniel Attah (28-17-1, 11 KOs) (134.5 lbs.) in an eight round bout.
Programming Note: Showtime® Championship Boxing will telecast the event LIVE beginning at 9:00 PM ET/PT (delayed on the West Coast) from the DC Armory in Washington, D.C.
Final Thoughts on Peterson vs. Jean
Peterson and Jean have heard it all over the past two months leading up to their match. Peterson, for instance, has been asked ad nauseam about whether he'll be able to overcome the memory of his knockout loss to Lucas Matthysse (34-3, 32 KOs, 1 NC) and whether Saturday's scrap is a "must-win" fight.
"A lot of the media has questions about how do you come back from a knockout," Peterson said. "I'm going to show you better than I can tell you. A lot of times, you've just got to forget it. At the end of the day, it's boxing and it can happen to the best of us no matter what we do."
Peterson added, "I didn't have a hard time dealing with [being stopped by Matthysse], accepting it, and moving on. But it seems like the media did."
The DC Native also believes that his upcoming match-up is no different than any other fight. "I don't feel [this fight is] a must-win [or] like I have to prove anything," said Peterson. "I love boxing. That's why I'm going to fight Saturday night, because I enjoy it. Because if I feel like I have to prove [everyone] wrong, then I'll stress myself out trying to prove I can still take a punch or I can still fight. That's stressful."
Occasionally, Peterson even contends with residual criticism—often from vocal boxing fans in chat rooms and the blogosphere—stemming from his admitted use of a banned substance in 2012. However, the Peterson insists that distractions are something that he can regulate with conscious control.
"I've always been the one who thinks you can only be distracted if you allow it," Peterson said. "If you don't allow distractions, then they won't happen."
Jean also appears to be handling the pressures and distractions associated with fighting Peterson in his hometown quite well. Part of the Montreal-based fighter's resilience likely comes from what Team Jean believes is a failsafe strategy to neutralize Peterson.
In theory, the game plan is simple. According to Jean, he expects Peterson to be cautious from the outset. In response, Jean intends to apply intelligent pressure to the Washingtonian. His hope is that this duress will force Peterson to recall his "nightmare" performance against Lucas Matthysse (34-3, 32 KOs, 1 NC) and, perhaps, falter under Jean's constant attack over 12 rounds.
"I'm just going [to fight] and put pressure on [Peterson] and shock him," said Jean, during his Showtime interview at the final press conference. "Remind him of his nightmare. That's the mission."
Jean's promoter, Camille Estephan, also put Peterson on notice that his fighter isn't merely in the nation's capital for a field trip. "We are here, not as tourists, but for the show and for the [IBF] belt," said Estephan. "We are going to get [Peterson's] belt."
It remains to be seen whether the aforesaid strategy will be enough to claim victory against Peterson.
Final Thoughts on Charlo vs. Rosado
While this match-up could be the fight of the night, the war of words between these combatants has been entertaining. Charlo remains steadfast in his assertion that he has the remedy for Rosado.
"I want to be recognized as one of the top 154 pounders," said Charlo. "So Saturday night, [the media and fans] should expect something crazy. If [Rosado's] face holds up, then we'll go 12 rounds if we have to. If not, I'm knocking him out early."
Rosado believes that his experience will be the deciding factor in beating the ascending Charlo. When asked to respond to his opponent's prediction, Rosado had the following rebuttal:
"It's a false sense of security. [Charlo's] undefeated, but it ain't against guys like me though. When he see's something different, it'll play out like how it happened with J'Leon [Love] (16-0, 9 KOs, 1 NC), where they saw a different animal in front of them. And they were gun shy. The difference is, I know that I can't depend on this fight going the distance. I know that I have to put on a [Marcos] Maidana (35-3, 31 KOs) performance, like what [he] did to [Adrien] Broner (27-1, 22 KOs, 1 NC). That's the kind of training camp that I've prepared myself for."
More important, the winner of this bout will have options at Jr. Middleweight with a possible shot at the winner of the Saul "Canelo" Alvarez (42-1-1, 30 KOs) vs. Alfredo "El Perro" Angulo (22-3, 18 KOs) tilt in March (Las Vegas, NV). In fact, Rosado indicated that, if he beats Charlo, he'd like to challenge the winner of Alvarez-Angulo or interim WBA titlist, Erislandy Lara (19-1-2, 12 KOs).
Fighter, Media, and Fan Predictions
Eastsideboxing.com surveyed fighters, media members, and fans to get their opinions on the winners of this this Saturday's main event and co-feature. (Note. These opinions are non-scientific and intended for entertainment purposes only):
Peterson vs. Jean
"[Jean] is a good fighter. He's tough. He's got good speed [and] good power. He has everything that you look for in a fighter and it's going to be a good challenge. But at the end of the day, I think I'll come out with the victory."
—Lamont Peterson
"[The fight] is going to end by knockout. I'm gonna knock [Peterson] out. That's for sure."
—Dierry Jean
"I don't know anything about [Jean]. But, I'm definitely rooting for Lamont."
—Gabriel Rosado
"I think because Lamont has been in wars before, I think he's the more experienced fighter; whereas Jean, this is his first step up on the big stage. So I think that Lamont is going to edge [Jean] out in a unanimous decision fight. It'll be a war, but I think Lamont will pull it out and retain the title."
—Lorin Chvotkin, Team (Seth) Mitchell, @LorinChvotkin
"I think it's going to be Lamont Peterson by decision. I've watched Lamont, so I'm very familiar with him and HEADBANGERS Promotions. And I feel confident in that [prediction]."
—Anna John, Managing Editor, Stiffjab.com, @stiffjab
"I don't know too much about [Charlo], but [Peterson] definitely will have enough support behind him to carry him though to victory tomorrow night. I like Peterson by decision."
—Brian J., Boxing Fan, @brianejerry
"Peterson is the home town boy, so he can pull out the victory. And [Peterson] has the experience. Jean hasn't fought on this level before. It depends on how Jean fights. If [Jean] comes forward, I see Peterson stopping him. If [Jean] boxes Peterson, and tries to stay on the outside, I see Peterson winning a decision."
—DC Mike, Social Media Video Journalist, @DCMikeTV
Charlo vs. Rosado
"Going into Saturday night, [Rosado's] got [himself] winning with a KO possibly. I've got [myself] winning with a KO as a must."
— Jermell Charlo
"There's no secret to my game plan. I'm gonna go out and apply smart pressure. I'm not trying to let this go into the hands of the judges. I'm going for the knockout…"
—Gabriel Rosado
"I'm going to say Charlo by decision."
—Anna John, Stiffjab.com
"That could go either way. I think the fans are hoping that Gabe [Rosado] finally gets his due. But [Rosado] is matched-up against a guy who's hungry and young. I think, at the end, you'll see Charlo win a decision."
—Lorin Chvotkin, Team Mitchell
"I like Charlo in this bout. I could see him grinding out a decision victory."
—Brian J., Boxing Fan
The Authors' Picks: For full disclosure, Paul believes that Peterson will decision Jean and Charlo will outpoint Rosado. Justin likes Peterson to decision Jean as well, but he believes that Rosado will stop Charlo by late TKO.
Other News & Notes
• The Peterson-Jean fight card includes several bouts showcasing members of the "Band Camp"—a collection of emerging boxers and their respective entourages who are often publicized by the group's most outspoken member, Adrien "The Problem" Broner. Rau'Shee Warren (Cincinnati, OH), Robert Easter Jr. (Akron, OH), Raynell Williams (6-2, 2 KOs; Cleveland, OH), and Jamel Herring (6-0, 4 KOs; Coram, NY) are reported Band Camp members who will be in action this weekend.
Author Contact:
Justin Jones: Justinjones2112@gmail.com, @jusjones29