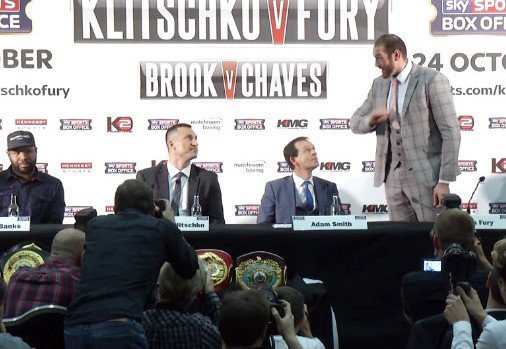 Tyson Fury has suggested he can make short work of Wladimir Klitschko on Saturday night in Dusseldorf, predicting his shot at the dominant Ukrainian's WBO/WBA/IBF heavyweight titles will be one of the 'easiest fights' of his career.
The 6′ 9″ British challenger has not been short of confidence in the build up to his big chance, which he believes he is more than ready for, claiming he is prepared for any number of different outcomes once the first bell goes, and has seen more than enough holes he believes he can take advantage of in the 39 year old Klitschko's game.
"I think this is going to be one of my easiest fights," Fury said about Saturday's fight, which will be live on HBO in the US. "I know that sounds crazy because he's a super-champion but I see so many chinks in his armour.
"There's nothing he does that worries me. I'm attracted to him [stylistically] in every way. There are so many things he doesn't do very well and we'll see what I'm talking about on Saturday night."
After winning the war of the verbals in the build up, and 'performing' in the entertainment sense of his role as a fighter OUT of ring, Fury claims he is ready to entertain IN the ring, in the manner in which he is accustomed – doing whatever it takes to win, claiming he feels no nerves, and that simply, his time has come to lift the heavyweight championship of the world – well, 3/4 of it.
"I don't feel like I'm in a fight when I'm stood face-to-face with him, never mind when I'm the same room as him. I won't feel like I'm in a fight until he's throwing punches at me, that's just who I am," Fury said to Sky Sports.
"I'm not one bit nervous for this fight. I'm not anxious, I'm not excited – nothing. Why am I this confident? I don't know. It's like it's just meant to be."
Twitter @undilutedpoison