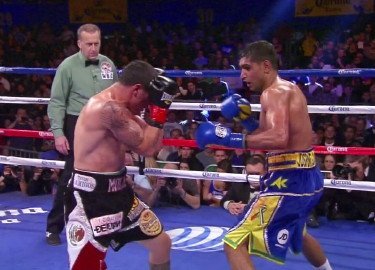 By Brandi Miller: Floyd "Money" Mayweather has challenged Amir Khan to face Adrien Broner on his May 3rd undercard for a chance to face Mayweather himself, that being if Khan is able to beat Broner of course. Those who follow boxing know that recently Khan was in the running to face Floyd this May but instead Floyd chose Marcos Maidana. Khan was begging for the fight in the weeks leading up to the fight announcement only to be embarrassed by Mayweather when he was not the chosen one.
The question now is will Khan accept the challenge from Floyd to face Broner. Khan made it publicly known that he needed to fight a big name in order to land the Floyd fight and Broner would definitely be the name that could get people talking. Khan even went as far as calling Broner out on twitter and saying her would win by knockout. Broner has not responded but he did mention the possibility of fighting on "big bros" undercard so maybe he is willing to accept the Khan fight. In my opinion the Khan-Broner fight is an interesting fight but I don't think it does much for Khan beating a guy who just came off a loss like the one Broner took.
Broner was handed his first defeat from Marcos Maidana, who won the Mayweather lottery on May 3rd. Broner has a lot to prove to himself and the boxing public because he was supposed to be next in line to be crowned king in boxing once Floyd retired, a title I thought was given prematurely if you ask me. Maybe Floyd just wants Khan to get a noticeable win so he can finally justify fighting the young star from the UK.
Either way if the fight is signed it is expected to take place on Mayweather's undercard making it another PPV where people can get their money's worth. Khan-Broner will be an entertaining fight indeed because both fighters have speed and power. Look for a tough fight for both competitors. Broner will really have to be focused for this fight because Khan will not hesitate to knock him out. The thing about Broner is he does have decent power and we all know that Khan doesn't have the best of chins, who knows how this fight ends but I do say bring it on it's a treat for the fans.