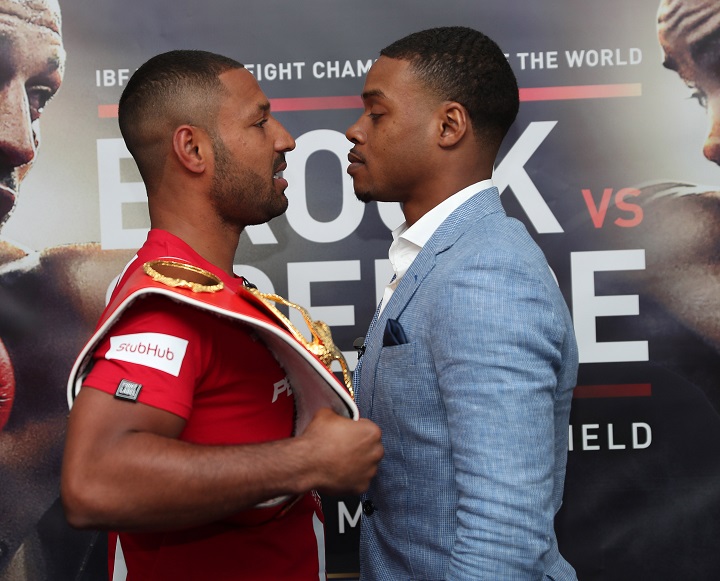 A Box-Office offering here in the UK (on Sky Sports pay-per-view) the exciting Kell Brook-Errol Spence IBF welterweight title fight showdown would very likely have sold well and pulled in plenty of armchair fans on its own – just like the Joshua-Klitschko fight (which has been bumped up a little in price, going from the usual Sky Sports p-p-v fee of £16.95 to £19.95).
But unlike the April 29 heavyweight clash, Brook-Spence will be backed up by a very solid, value for money under-card. May 27 at Bramall Lane in Brook's home town of Sheffield promises to be a big, big night – with the headliner backed by George Groves-Fedor Chudinov for the WBA super-middleweight title, and a commonwealth heavyweight title fight between David Allen and Lenroy Thomas. With other fights likely to be added to the May show, fans will not be moaning and groaning over having to pay for this card.
Brook-Spence is very possibly the best, most evenly matched welterweight title fight that could be made in the talent-rich division today, and many people are expecting a great fight next month, maybe even a genuine classic. And Groves, going for his fourth crack at winning a world title against Chudinov, won't be too bad a scrap, either. The heavyweight fight, a bonus offering if you like, could also be a real fun fight.
Football ground Bramall Lane will be rocking, and almost certainly sold out, on May 27 – but will the Sheffield fans see their hero Brook retain his treasured belt? This fight really is a 50/50 showdown. Brook, 36-1(25) is of course coming back from that quite brutal stoppage loss to middleweight king Gennady Golovkin last September, while unbeaten southpaw mandatory challenger Spence, 21-0(18) will be having the biggest, sternest test of his ultra-promising pro career.
Sky never release their p-p-v sales to the public, but they will very likely do very well with this event. Once again we have confirmation that boxing really is booming in Britain right now.