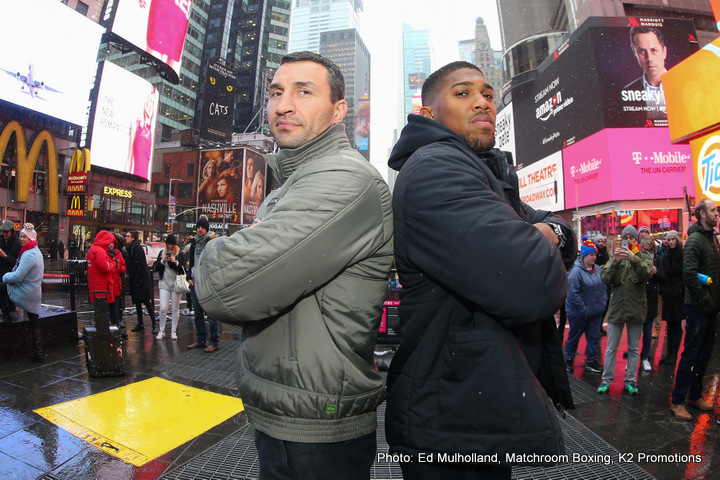 How shocked would you be if the big April 29 heavyweight showdown between Anthony Joshua and Wladimir Klitschko got postponed due to an injury on the part of one of the fighters? This is just what former, undefeated heavyweight champ Tyson Fury has come out and said he thinks will happen.
"Starting to think the Klitschko vs AJ fight isn't happening in this month. Bet sum1 gets injured, sell out my arse!!!!@EddieHearn pussy," Fury wrote on twitter earlier today.
So, has Fury got some inside info, or is he merely messing around, perhaps trying to get one last shot in in his social media verbal battle with Joshua? It's probably the latter, but let's face it, Klitschko does have something of a reputation for pulling out of fights; sometimes at the eleventh hour.
Right now, if he has the spare time, it would be nice if the big fight promoter Eddie Hearn came out with a reassuring announcement that the fight IS still on. After all the build up, the sport could not stand this one falling apart. We need to see the fight, and more importantly, Klitschko, at age 41 and winless in a full two years, needs to fight.
Has someone picked up an injury and has big Tyson found out about it, or is Fury on the wind up? We'll no doubt get an answer later on today.
Meanwhile, Joshua has stated that he is "in Fury's head," and that the two of them will "definitely fight." This possible match-up would be absolutely monstrous, in the UK and around the world – and AJ knows it.
"I think Tyson Fury [would be my biggest fight]. I couldn't say what his plans are. I'm not going anywhere," Joshua told the media gathered in Sheffield after a training session. "If it were up to me, that would have been the fight happening this summer. That's what I thought. I was planning for a massive showdown with Fury, but he had other plans. When he returns, I'm sure I'll still be here."
Instead of Fury, Joshua gets Klitschko next on April 29; doesn't he?!