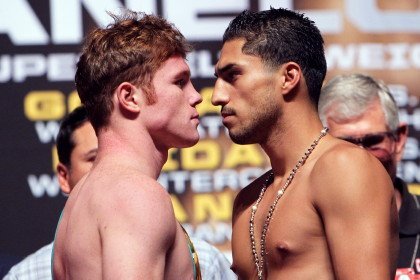 (Photo credit: Tom Casino/Showtime) By Marcus Richardson: Josesito Lopez (30-4, 18 KO's) might very well have kissed goodbye his only chance of winning tonight agaisnt WBC junior middleweight champion Saul "Canelo" Alvarez (40-0-1, 29 KO's) by coming in a flabby looking 153 lbs during Friday's weigh-in for tonight's bout at the MGM Grand in Las Vegas, Nevada. Before this fight, the heaviest that the 28-year-old Lopez had ever come in was 144 3/4 lbs for his fight against Victor Ortiz last June. Lopez appears to have power feeding in the past couple of months and has put on a lot of weight.
That weight, a lot of it ending up on his abdomen, will likely see him in the 160s tonight against Alvarez and that's probably too much for Lopez to be carrying around. What Lopez should have done is stay as light as possible because his speed was his main asset against Alvarez. Lopez was never going to able to bulk up in three short months and compete with the stronger, younger and better skilled Alvarez in a toe-to-toe battle.
That's just not going to happen. Lopez was never a big puncher, and just because he bulked up with a little muscle as well as fat it doesn't mean that he's going to be able to beat Alvarez at his own game. This weight that Lopez has put on is going to hurt him in a big way by preventing him from being able to box properly. He's going to have problems when it comes to being able to move like he's done in the past, and without his movement he'll be a sitting duck against Alvarez.
Lopez's only chances of winning this fight is if he goes all out and tries to score a knockout in in the first two or three rounds. If he's not able to hurt Alvarez then he's going to quickly wear down from the combination of fat that he's put on and the shots that he's getting hit with from Alvarez. I suspect Lopez will be knocked out by the 8th round at the latest. He's never been in with a puncher like Alvarez before and the weight is going to make him slow for Alvarez.